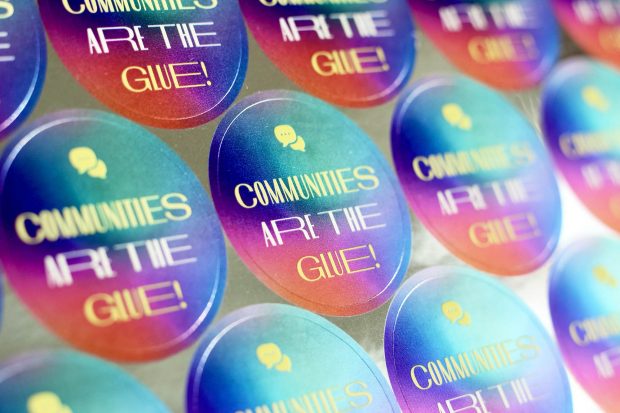 From 2016 to 2020 the Government Digital Service (GDS) user-centred design (UCD) communities team worked to advocate for user-centred design in government, increase the UCD capability of the public sector and enable teams throughout government to deliver good services for users. 
We helped to nurture and support the cross-government design, user research and accessibility communities. In this post, we'll share why communities are important and how the UCD communities team supported cross-government communities; and signpost to resources and community formats that are still available. 
Through a series of blog posts we aim to capture what we learned from our 4 years as a team to share with others working on building UCD capability, and advocating for UCD and communities of practice.
Why have a community?
One of the biggest benefits of working in the public sector is being part of a huge community of people who can share their work and support each other. Communities of practice (CoP) are the glue that bring together people from across the public sector to work together. While we work across different organisations we are working towards a common goal: building and maintaining good public services. 
To be able to work together at this scale, we need ways to quickly and easily ask each other questions, to have shared learning experiences, to access patterns to use and contribute to, and to seek advice or just vent. These communities are not self-sustaining: communities require leadership, support, and structure in the form of heads of community, community managers and learning designers.
For user-centred design in government, communities build consistency, standards, tools, support and capability. User-centred design is the best way we know of making services that work for users.
The UCD communities help government teams save time and money, and make services better by applying our standards and guidance. The communities also co-develop guidance and standards, put them into practice, advocate for them, and provide feedback to continuously improve them.
What we mean by the UCD community
Communities are fluid and always changing based on the members that come and go. Communities exist and flourish because of community members—people get involved in communities related to their profession, skills and learning interests. 
The UCD community is for user research, design and accessibility practitioners who are part of the UK government's Digital, Data and Technology profession (DDaT). It is also for like-minded public servants looking to learn and share. There are about 4,000 people in the UCD community. 
We know that roles in government are not the same across teams and organisations. Some organisations have user experience (UX) designers, some have people doing design work that do not have 'designer' in their job title. It's important that the UCD community invites these people in and is flexible enough to support their needs.
About the UCD communities team
There have been individuals and groups of people working on user research, design and accessibility in government for a very long time. The benefits of these people being able to share ideas and support each other has always been apparent. 
As GDS grew and the Service Standard was adopted by more and more teams and departments, the number of UCD practitioners across government grew rapidly. The need for centrally-managed structures for these communities to form around was strong. The digital service designers mailing list was created in 2013 out of the need to connect with other designers starting out in government departments, and GDS started offering training in user research and design in 2014.  
Communities need leadership to support them and drive them forward. Over the past few years, we've had strong heads of cross-government community roles. The UCD communities team was established in 2016 by Lou Downe, the former Head of Service Design and Standards at GDS. Starting as a team of 2, the team grew to have 8 members by 2020. We had skills in community management, facilitation and designing learning experiences; a deep understanding of doing and leading service design and user research; and overall a huge passion for supporting and growing the communities. 
You probably have not heard of the UCD community or the UCD communities team and that's ok—the community isn't about us, it's about the members. The UCD community and team have provided the structure for connecting, sharing, learning, and advocating for our practice and profession. 
The UCD communities team was the invisible bit that enabled the community to grow and mature. The team worked hard to design ways for people to learn from each other, to share ideas and struggles, and to use the collective knowledge and experience of the community to change government for the better.
Our ambition always exceeded what our small team could support. This constraint pushed us to design ways to scale our work and get community members involved in contributing to the community. In August 2020, the UCD community team was disbanded. However, there are lots of resources that are still available.
What's now available to the communities?
While the team has been disbanded, the UCD communities are still supported and part of the fabric of how we work in DDaT in government. You can find out more about these things in the Service Manual.
The following resources are available to all UCD practitioners in the public sector:
To see what the community has been up to, watch the recorded talks from Services Week 2021 on the UK Gov Design YouTube Channel. You can find talks on accessibility culture as well as a show and tell on GDS' latest work. If you are a public sector employee you can get access to private recordings on the #ServiceDesign channel on the UK Government Digital Slack.