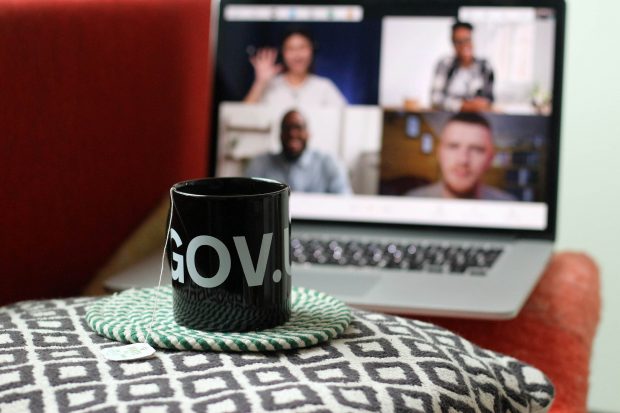 Working as a designer in government can be a tale of 2 halves when it comes to collaborative working and sharing knowledge.
The first is one of working on the outskirts of a network of designers where it's often difficult to have your voice heard and your work seen. The second is one of the great opportunities, where you can access a wealth of design experience at different levels and frequently get involved with communities.
This is where buddy groups come in.
Bringing the idea to life
The idea was conceived by 2 designers from different departments at different times and took a little push and some great support from heads of profession to bring it all together.
The original idea came from similar places – both centring the enthusiasm to regularly connect designers from across government whilst remote working, but also to break down the barriers of cross-government collaboration that can span local and central government. 
We had some initial conversations with colleagues in local authorities and across central government. Within a week, a survey had gone out, which was publicised through all available community channels (mailing list, Slack, Twitter). The feedback and responses showed us that the appetite for something like this was huge and wide-reaching.
Establishing the working group
With over 170 people registering from the first survey, it was clear that we needed to create some structure to ensure the buddy groups ran effectively.
Responses came from central and local government departments across England, Northern Ireland, Scotland and Wales. We saw a diverse range of submissions with designers working in:
service design (65)

interaction design (44) 

content design (39)

graphic design (10)

other design professions (18)
From the submissions, most designers wanted to be part of groups of 3 to 5 people  and mixed with different levels of experience. 
We also saw groups wanting to form made up of women only and people who identify as Black, Asian and minority ethnic (BAME) only. We ensured that this was available at the pilot stage.
We asked those who had expressed an interest in helping to run the buddy groups if they would like to be on the working group. Our assembled group for the pilot was made up of design colleagues from local authorities and across the UK government.
An initial working group session looked at what support was needed to form groups for the pilot, how many people would be in each group and creating the groups based on responses to the registration form. We've met regularly and iterated based on feedback from the pilot groups.
What we learned
There's a groundswell of interest in the design community for buddy groups, and people are interested in different types of groups, for example:
same levels, different levels

same types of design, different types of design

women-only groups

BAME people-only groups
Everyone wants to meet people from other departments and organisations across government.
The most difficult part of getting a buddy group up and running is coordinating diaries. We've aimed to solve this by letting buddy groups self-organise and accepting that sometimes diaries just won't align.
Groups only need to exist for 6-8 weeks to be of value and the ideal group size is 4-5. That's enough to include a range of people and experience but not too many that you don't get to hear from everyone. And if one or two people can't make it to a meeting, it's still of value.
We've also ensured that we have a support structure in place for safeguarding measures. We want members to feel comfortable in their groups but to know they can report any types of misconduct or inappropriate behaviour. Several members of the working group act as points of contact for any issues that might occur in the buddy groups.
Some of the main pieces of positive feedback from the pilot are:
the groups have helped us create networks and meet people we wouldn't normally get to meet

we like having access to peers to get feedback on work

we've seen the beginning of a community of practice
The meet-ups have provided an opportunity to look outside of our organisations to learn how others are doing things. We all bring different experiences to the discussions but are all working to solve similar problems. Being able to have open conversations with like-minded people has been very useful.
– Designer at the Met Office 
What the future holds for buddy groups
The 8-week pilot session has now ended. Following on from the initial success we've just launched the second round of buddy groups, connecting 52 amazing designers in central and local government.
This second round of groups will run for 8 weeks, and we'll be asking for feedback from members to find out if these groups are still adding value and what we can do to continue to improve.
If you're interested in being part of a future round of buddy groups you can sign up to the next cohort of buddy groups by completing our sign-up form.