Service design is new as a discipline at the Department for Education. We hired our first service designer in 2019 and since then have grown into a small team spread across a few different divisions. However, other areas might not know how we can help the organisation become more service-oriented.
In this blog post, we share our experiences of bringing service design to a new division, highlighting the ups and downs, the progress we have made and what we want to do next. We hope sharing our learnings will help other service designers with similar challenges across government. 
As fairly new team members of the Service Delivery Division, we found it useful to have reflective chats about our work and the main challenges we face with embedding service design. To help capture and structure the outputs of our chats, we developed a user journey map.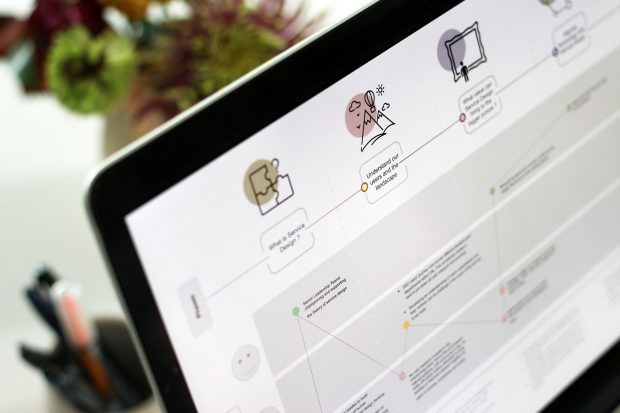 This user journey plots our experiences and how we have addressed some of our challenges. Through our chats a theme became apparent around the understanding of service design, In particular, its scope and value, types of users, what end-to-end and front-to-back service design means and how to align tech to enable us to meet user needs.
What did we do?
With a clear view of the main challenges affecting our ability to embed service design we set out to address them. In November, with the support of Lisa Jeffery and team at GDS, we ran our first remote 'Introduction to Service Design' training for the division. This improved understanding of what service design is and its scope. 
In January, we produced a service map that helped colleagues understand how schools and trusts make their way through some of our services. It helped us to illustrate the similarities and differences between different areas that our product teams are working on. (Fun fact: the map is inspired by the famous London Underground map.)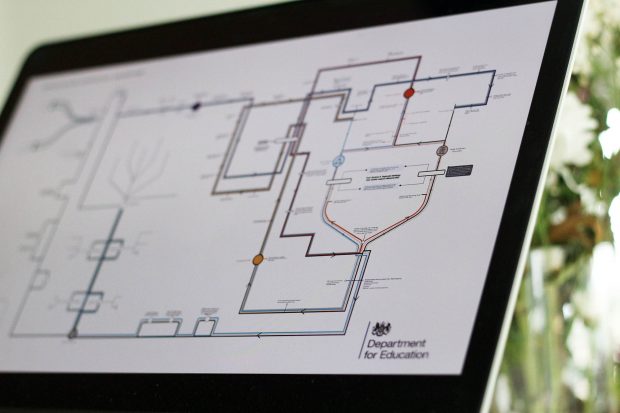 In February, we improved user experience in our product design by gaining agreement to change direction on tech choice. We did this by demonstrating to senior stakeholders how usability problems could be improved using the GOV.UK Prototyping Kit.
This was helped along by Craig Abbott, Head of Accessibility at the Department for Work and Pensions (DWP), who shared his experience of building internal services using the prototyping kit. Craig demonstrated what is possible and how it had helped them achieve front-to-back transformation in DWP.
This led to a tech spike and the Academy Transfers team here, showing us exactly how this could work and the benefits it could bring to our users. The feedback from civil servants was overwhelmingly positive.
As senior stakeholders have prioritised improving internal service delivery first, we have developed a library of service patterns for civil servants as a way to improve consistency. These include common stages and tasks such as assess something or request something.
Our ambition with this work is to create further stakeholder buy-in for more external user research to identify service patterns for our end users. We hope this will help us on our way to achieving front to back transformation in the future. 
How could it work differently?
Whilst we have made big leaps in changing the environment for service design to take place in our division, we often discuss how this could work better for other service designers coming into a digital delivery space in the future. Our Lead Service Designer, Sam McLeod, is helping us to think about this as a service design community.
Some of the main challenges seem to arise when service designers are an afterthought or hired at alpha or beta phase of product development. This means that all the important work we do in a pre-discovery and discovery phase to build an understanding of the current service, and understand and prioritise problems, hasn't been done and, worse, is in conflict with delivery timescales.
Alternatively, if service designers are hired at the start of a project, our work can help to develop a full picture of the service, the problem space, and to show how an entire service could work differently to benefit end users and the department. This could also help us to decide what our products should be and how our teams could best work together to design whole services.
We have some ideas to address this but want the help of the wider design community so will end this blog with an ask. How do you think it could work differently? How have you helped a government organisation to align its strategy and goals to become service orientated? Please leave your thoughts and experiences in a comment below.