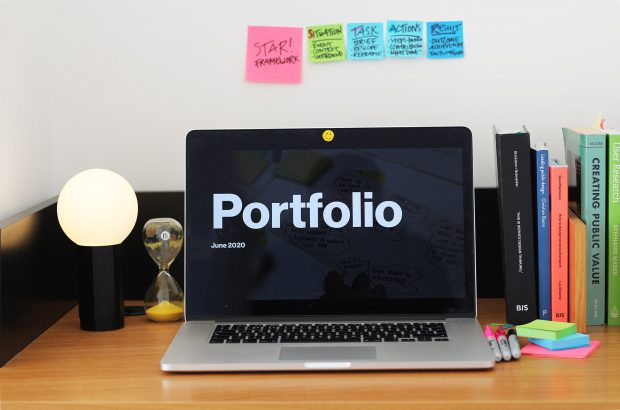 In the past decade the UK government has hired thousands of designers. Today there is an active, supportive community of user-centred design people all across the country openly talking about their work, challenges, and experiences.
As we are working at scale, we have established design specialisms. Government organisations have hired graphic, interaction, and service designers to improve all aspects of public services. They work alongside content designers, user researchers, and technical writers who all form part of the user-centred design job family. The Digital, Data and Technology (DDaT) Profession have written and published detailed role descriptions for all design disciplines and levels of experience.
Even though recruitment processes vary in different parts of government and the public sector, providing a portfolio of past work is usually a prerequisite to process an application in addition to a CV and a cover letter. Portfolios give applicants the opportunity to demonstrate that they bring the experience, skills and knowledge required for the role. This blog post helps to clarify what is expected of applicants, what a good portfolio looks like, and why it's important.
What is a design portfolio and why does it matter?
A design portfolio usually includes 3 to 5 case studies that show how you have designed something. Depending on the design discipline you are applying for, it might be how you improved a service or designed a communication campaign. It helps if you can tell clear, short stories with both your writing and visuals where possible. In order of importance, the viewer of your portfolio is looking to learn about:
the results of your work, for both users and for organisations

the different approaches you used to reach those outcomes, both what worked well, and what worked less well

the problems you were tasked with solving, for users and for organisations

your reflections on your approach



A portfolio helps communicate your skills and experience for the role when reviewed alongside other candidates. It enables you to provide examples that align with the job description; for example for a digital role, make sure to include a digital example.

As well as providing you with confidence, a portfolio can help you reflect on what you have done. It will help prepare you for the interview and questions asked in it.
Use examples that you are happy to be asked about and that present you and your work at their best.
Decide on your content
If you find it hard to select examples, it can help to consider the things you want your audience to take away. There isn't always a hero story or dramatic turning point in a project, but probably key insights and discoveries that led to the development of a solution. 
Think about the sequence and order of your projects – people are most likely to look at the first 2–3. Are you putting your best or most relevant project at the back?
Show your process in the right amount of detail. That doesn't mean explaining projects over many pages. Instead be selective, include projects you are most proud of, and tell that story in as few pages as possible. Use good images of your work, intermediate states, and process to highlight points. If you are submitting a file with pages, try to not use more than 25 pages.
State the context of your work using plain English. Avoid jargon and technical terms your audience might find hard to understand. 
Use a clear and consistent structure to describe your projects. For example, you can apply the STAR framework. STAR is an acronym. It stands for situation, task, actions, result. Write short paragraphs of 3 to 4 sentences for each of them. What was the situation, your starting point? What was the task you were given and how did you reframe it? What was the action you took, what did you do? And what is the result or measurable outcomes?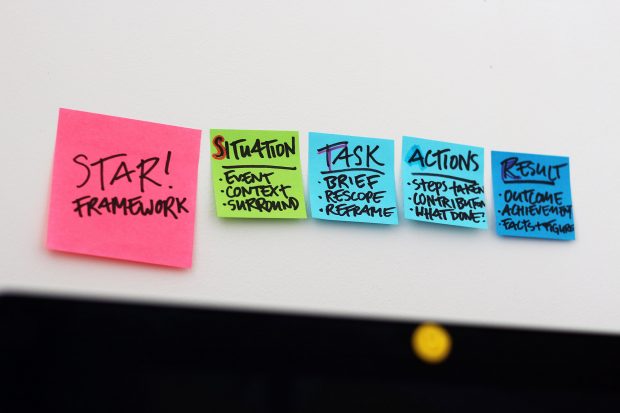 Describe what your role was, be open and clear about what you did, and how you worked as part of a team. The people trying to hire a designer know that good work often includes multiple people and are interested in your specific contribution. Especially in extensive projects, it's clear that you did not do everything by yourself.
Balance text with photos, graphics, and schematics. Consider image descriptions and write meaningful headlines. If possible, plan ahead – make sure to keep a record of your work as you go along so you have all the material and detail available later. 
Be reflective and critical of your work. What worked, what didn't and why? What would you change if you could do it all again? Think about possible questions you might be asked in an interview when reviewing and documenting your work.
If you have work created under non-disclosure agreements, make the work anonymous. Don't disclose the organisation. Instead tell what industry it was for, describe the work, and the approach you took. If necessary, talk about the work in a more high-level way and blur parts of images. 
Consider your style
Use the first-person point of view. Use 'I' instead of a third-person perspective. The people studying your portfolio are interested in you, not what other people think of you.
Think about structure. Headings can be an effective way of highlighting the content you want the reader to take away. Typography, the use of bold type, and visual hierarchy can help create structure. Use a typeface with good contrast. If you're unsure which font to pick, go with a plain one like Helvetica. 
Keep your portfolio style consistent so it can be read quickly and easily understood. People may glance at your portfolio first, flip or scroll through it, and then start reading it from the middle or wherever gets their attention. 
Develop your content with the audience in mind, and recognise how and where they might be viewing it. It's always important to remember that in government you will be designing for all, so try to make your portfolio as accessible as possible. Accessibility can mean a few things for a portfolio: Is it a web page or PDF file? If you prefer to submit a PDF file, make it work for a computer screen, use landscape over portrait format, and make the font size big enough to be easily legible. 
Navigation is essential in your portfolio. From contents pages to back buttons on a website, let the user understand clearly where they are and where they are going. 
Keep it simple
Don't over-design the portfolio itself. Put the focus on the work. Too much styling can even distract from your projects and work against you. 
You don't have to explain your design process in great detail with double diamonds or standard process diagrams – because they don't explain how you worked. Instead, if process is important to you, think about ways you can build this into the images, text, and diagrams you already have.
Present the best you
Feel free to make your portfolio personal. It is an instrument for you to reinforce examples mentioned in your CV and cover letter.
Do make yourself familiar with the ways of working of the government organisation, and the programme and service team you're applying for. Many departments and agencies in the UK government have their own blog where they share their work, thoughts, and approaches. To learn more about the Government Digital Service (GDS), have a look at the GDS blog and GDS podcast.
The civil service also uses so-called success profiles in its recruitment procedures. It's worth having a look at them and examining how you are showing those successes in your portfolio. 
Once you have done all of the above, ask someone to proofread the text and descriptions in your portfolio. You will have invested a lot of time and energy into it, so you don't want to let errors and typos devalue your efforts. 
Government is an equal opportunity employer and the design community is working hard on making it an equitable place welcoming applicants of all backgrounds. Dean from NHS.UK wrote about building diverse teams and Clara and Harry have blogged about increasing equity in the GDS design team.
What to do next
Do have a look at some portfolios of designers who have designed government services and documented their work: Adam Silver designed the child funeral fund service, Eliot Hill developed a department's design system, Enor Anidi helped EU citizens apply for a first child passport, George Sheldrake mapped a massive justice service, and Hafsah FitzGibbon improved access to justice for vulnerable people.
There are regular public events where designers working in government talk about what they do. You can join a gov design meetup in London or in Manchester. You can also find recorded talks on YouTube to learn more about design in government.
On Tuesday 14 July from 5pm, and on Wednesday 22 July from 12pm, GDS is hosting its next user-centred design career events for underrepresented groups. They will take place remotely. Join them for short talks, chats, and if you want feedback on your portfolio. Government organisations are also present at job fairs like Silicon Milk Roundabout.
Related blog posts:
Become a service designer in government: step by step
What we are doing to increase equity in the GDS design team