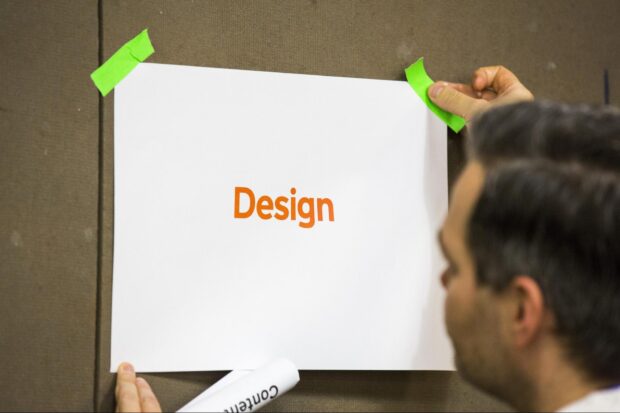 There's a big demand for designers in government. In this post, I'll explain a few of the ways we work and the different types of design we do in government.
Over the years we've developed some ways of working that we find work well.
We build things
You'll never see a double diamond here, or hear anyone use the word 'innovation'. we only talk about the work we actually do – fixing stuff and making it better
All our designers can code
All our designers can code because we believe that like any other type of design, you need to understand the constraints of your medium – and ours is mostly the internet. We still don't make wireframes for that reason. Front end developers work within our teams, and often designers will pair with developers to help them prototype things
User research is a separate expertise
Contrary to the rest of the design industry, we have separate user researchers and designers. They work together, always, but understanding the needs of every citizen is a full-time job.  Equally, when you're designing at this scale, you should never mark your own homework by doing both design and research alone
All our designers are expected to spot and create new patterns
We identify then standardise commonly-repeating patterns to help save us time and improve the user experience. This is something that all designers contribute to.
Types of designer
Design is a broad field, with many different specialisms. We've split design into four distinct roles. No one of these roles is more senior than the other. Our roles are specialisms, not a hierarchy. We've created specialisms because we operate at a massive scale, and no one person can be good at everything. There's no 'right way to be a designer' you can be one, or all of these things – with more chucked in for good measure.

The roles are based on what a designer is designing, not the effect that might have – it's why we don't have user experience designers. We believe the user experience is everyone's responsibility. Here's a selection of the different disciplines.
Service designers
Service designers design services – from end to end, back to front – in all channels.
Given a set of policy intents and user needs, a service designer will devise what service meets both of these goals and how it works.
Most of this is focussed on redesigning existing services, but since most government services are a collection of isolated transactions and activities, our service designers work like archeologists – piecing together the fragments of a service and working out how that service needs to change to meet user needs. Sometimes this is a radical rethinking, sometimes this is a more gentle reduction in complexity.
To learn more about the way our service designers work, take a look at Harry Trimble's blog post on designing services by building them or this blog post by me on what service design is in government.
Interaction designers
Interaction designers design the detailed actions a user needs to make in order to use a service. That's not just the 'UI' – it might be the exact pacing of a number of questions within transaction, or the order within a service where a 'login' is (or isn't) appropriate.
They refine and shape user journeys and help remove complexity where it isn't needed.  They design for diverse users and platforms and ensure usability and accessibility of the service. They help identify gaps in product understanding, help plan user research and analytics and help inform the design of user journeys.
This post by Tim Paul explains the type of problems an interaction designer tackles in government.
Graphic designers
There aren't many graphic designers in government, but they play a crucial role. Graphic designers use typography, grids, space, colour and imagery to create a common design language for government. They create shared design patterns to allow us to scale and constantly change GOV.UK whilst remaining consistent and identifiable as government. [Consistent, but not uniform]
Graphic design is an enabler for content and interaction design, by influencing how users understand and interact with information. Developing simple information hierarchies ensures that content is legible and easy to read, and that interactions are clearly understood.
This post from Stephen McCarthy explains what graphic designers do at GDS and across government.
Content designers
Content designers are writers, editors and arch-communicators. They take user needs communicate complex concepts in simple, plain language that a user can understand quickly. Since the vast majority of our services are made up of words, it's important to get those right.
Most content designers work on services, but others might also write content for a complex campaign, or work on technical documentation for developers. Others will work on content strategies for particular service areas or topics, simplifying and standardising the language within that domain.
Either way, content designers make sure that the words we use meet the needs of the user as clearly, simply and quickly as possible.
Read this post from Christine Cawthorne and Emileigh Barnes explains how content design changes with user research
We're talking about #servicedesign on social media for the week, sharing lots of new videos, case studies, images and blog posts.