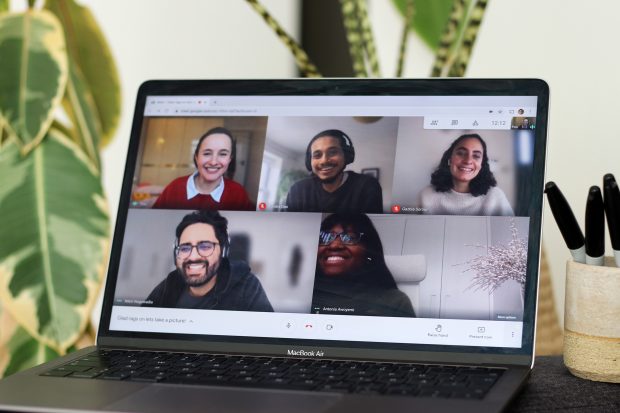 We're some of the 8 new designers to join the Government Digital Service (GDS) design community since our office moved to remote working in March. It's been challenging, but rewarding, and we've been made to feel very welcome.
Meeting the other new designers has been incredible. They've been generous with their time, sharing their experiences and offering support. It's been reassuring to know we're not the only ones trying to make sense of it all.
Not every designer will be as lucky to have started with so many others. We want to share our experiences with you, especially if you're joining a new team, or you're responsible for onboarding a designer.
Starting remotely as a designer during a crisis can have its ups and downs. Here's our reflections of what it's been like.
Comfort in community
Gazbia Sorour, Service designer
What surprised me the most about GDS is how community-driven, open and transparent the organisation is. 
There were many moments when I felt lost, but there was never a moment when I felt alone. You will find support as quick as a blink of an eye, literally! All you need to do is to send out a message on one of the many Slack channels. You have communities set up for everything, from a random coffee club, to IT support to designers across the whole of government.
I find comfort in the fact that GDS is super transparent. As designers, we come together on a weekly basis. We have the opportunity to share what we're working on, brainstorm ideas as well as ways to overcome blockers. Organisation wide weeknotes are sent from all teams to summarise updates. Regular Show & Tells are held to highlight the great work, lessons and achievements from across the organisation. 
Everyone is willing to give their time to share; you can really feel that people's main driver is to create an impact!
Support from those I've yet to meet in real life
Nikin Nagewadia, Interaction designer
I joined GDS in late August as an interaction designer in the critical response team within the GOV.UK programme. It's natural to feel lost and insecure when starting a new job; however, those feelings amplified for me with the backdrop of a global pandemic.
I initially found it difficult to gauge whether I'm doing a good job or not, and although those moments do occasionally sneak up, even to this day, they are alleviated by my frequent check-ins with direct team members, other designers in the programme, as well as with my line manager and coach. These check-ins, whether it be done through Slack or a Google Hangout, have continued to help squash any insecurities that have been brewing and instill confidence in my ability as an interaction designer.
I would've never imagined joining GDS, let alone during a global pandemic, but I'm happy to be here working "side-by-side" with a group of talented and supportive designers that I'm proud to say are my co-workers.
Constant encouragement
Antonia Awoyemi, Interaction designer
Joining GDS as an interaction designer has been a very interesting experience for me. I'm one of 2 new designers who joined during lockdown from a non-design role within GDS. This didn't make joining any less daunting though so I'm thankful for the entire design community's warm welcome and regular virtual-get-togethers; they have really helped me settle into my new role. 
One of the things that has really helped build my confidence in my abilities as an interaction designer was the design community's belief in me. Other designers are constantly reaching out with new opportunities to shadow, get involved in cross government design crits, and speak at events. The constant encouragement gave me the confidence to publicly speak about my journey to becoming a designer at a 'Discuss a design challenge' session. I've also taken on the role of running the new designer welcoming committee, and I'm helping improve inclusivity and equity within the design community as part of the working group for the new Service Design apprenticeship. 
Our sub-community of new designers keeps growing every month with designers, across all levels. It's full of genuinely awesome people I feel lucky to work with and hope to be able to meet in person one day!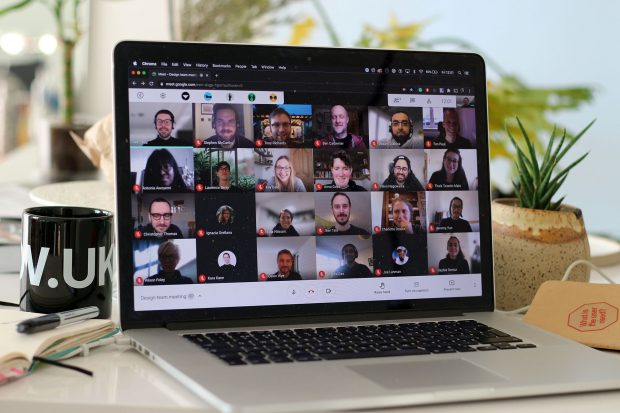 Getting to know people
Ella Dorfman, Senior service designer
When I first started working remotely for GDS I was nervous about how to get to know people online. Relationship-building is important to many jobs, but particularly for my profession service design. The main focus of my job is to bring everyone together (colleagues, service users, senior stakeholders) to build shared understanding and collaborate on new ideas. This is much easier once you know people. 
GDS have been really good with helping me build relationships remotely, by providing emotional reassurance and access to the right information and tools. 
I've felt trusted to do my job from day one. The most useful thing someone said to me was 'Don't underestimate your own abilities'.
I was quickly introduced to relevant people, for example when I started my first project I was personally introduced to designers across government who could help.
Also, I've been given the right tools to collaborate efficiently. My computer has a good camera and mic and there's a process in place for getting software downloaded to my computer
I'm still missing human contact and looking forward to meeting colleagues face to face. Even so, it's still been possible to get to know people online. I feel a lot more confident in working in this way thanks to the support I've had.
Understanding GDS as a remote designer
Arindra Das, Designer
When I joined GDS I was assigned to a team inside GDS's Government as a Platform programme. Due to being a big organisation, for anyone it would take time to navigate and understand the organisational structure. Remote work and the pandemic made it even more challenging on whom to approach to get the right information, given GDS was in the forefront of serving the public at this critical period. Although there is freedom to choose your team, situations might still feel overwhelming.
However, the colleagues and organisational culture played a significant role in helping me cope up with the initial months. From the very first day I was invited to be part of team stand ups and meetings and take part in courses, talks and meet-ups. I felt welcome and everyone would provide as much context to accommodate. Courses and workshops such as 'Let's talk about race' and 'Power and privilege in design' were good stepping ways to understand the awareness of the people working in the organisation.

The colleagues are some of the most helpful and kind people I've come across. It felt like everyone in the organization was vouching for each other to be the best version of themselves. One advice that stuck out to me was "It is OK to take your time". There were clear sign-posting on how things will work such as the user-centred design (UCD) onboarding emails, community meetups etc. 4 months in the job and I look back there was so much structure within the chaos.
Have a look at GDS's career page if you are interested in designing government services. Sign up to blog updates to see what design in government looks like.
Related blog posts:
How designers across government are working remotely
How to create a portfolio to apply for a design role in government