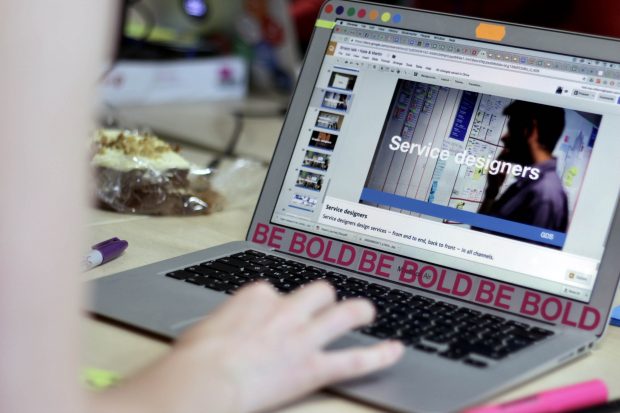 I often get asked if I can mentor or speak with other civil servants and designers, who are interested in learning more about service design. I've been experimenting with different ways to help people and have observed the key to helping someone, regardless of the format, is ensuring they feel supported by you.
When moving into a service design role there are going to be setbacks along the way. The best service I can offer is a never-faltering belief in their abilities. As Antonia Awoyemi, a designer I recently mentored, put it:
I strongly feel that having a 'cheerleader', or someone who honestly believes you can do it, helped me enormously. Having someone believe in you, who actually understands and does the work you want to do, makes a huge difference. It did nothing but help build my confidence in myself.

As much as I would love to help everyone, a mentoring relationship can take up a lot of time outside of working for the team I work on in the Government Digital Service (GDS). Here are 3 ways you might be able to help them if you find yourself in this situation.
Find out what they need
It's always worth having a conversation with the individual. They might just need a one-off 30-minute talk with you to ask some specific questions, such as what service design is and how it differs from other kinds of design in government.
Once you know what the person is looking to achieve, you'll be better able to know if you have the time to help or you'll have a better understanding of an approach or resource that individual could try. You might even learn the individual has something to offer you in return. Either way, a short first conversation will probably help the person along their path.
Consider other formats of support 
Helping someone doesn't need to be a video call or face-to-face meeting at set intervals. I've had multiple experiences of helping someone through email conversations or by Slack. The feedback loop is slower, yes, and it's harder to get into deeper level conversations. But it can be a beneficial method of communication if the person you're trying to help prefers the process of writing to reflect and articulate their needs. The format helps a deeper level of self-reflection without feeling rushed because we're coming to the end of the 30-minute slot I said I can help you for.
Send them this list of resources
The options above are great interventions to try, but they still require some level of mental and emotional investment from you to take ownership of helping someone. It's absolutely ok to not have the energy for that all of the time.
In this circumstance, perhaps the lowest-effort intervention you could do is share this list of service design resources. It means the person asking for your help can choose their own next step in their development, and I'm certain at least one of these resources will be a new learning experience to them.
You can expect more blog posts on this topic to follow soon and as always questions in the comment box below are always encouraged. What other ways have you supported people interested in service design?
Related blog posts:
Become a service designer in government: step by step
How to create a portfolio to apply for a design role in government