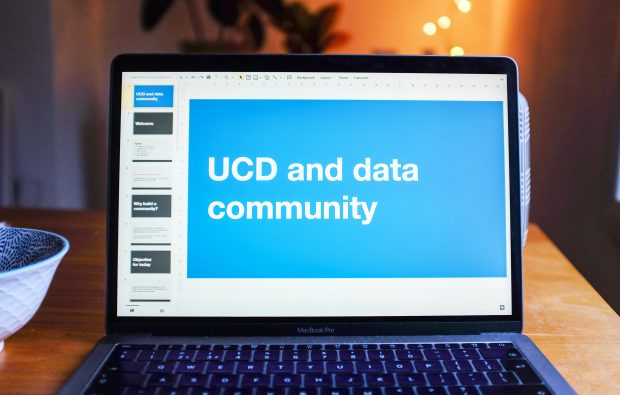 Government departments and arm's-length bodies have been publishing data for many years. The coronavirus (COVID-19) pandemic has meant that people are more interested in data and the way we use it. This has made it easier to make a case for bringing user-centred design into data teams and making those services truly user-centred.
Communities of practice play a prominent role in design work in government but there hasn't been one for user-centred data services. This meant there was nowhere for teams working on data services to access design patterns, share user research and collaborate.
Conversations started between us about the need for a community to support this growing area of work. We held a workshop in July with colleagues across government to understand if there was a need for this and what the value proposition might be.
During our workshop, we gained feedback across user-centred professions about what would be valuable to them. We used digital tools to let people make suggestions and then dot-voted to see what was of most importance to people.
We identified several areas that people feel a community should focus on:
developing a set of guiding principles and approaches

for all professions working on data tools - teams should be able to use these to make designing with data more user-centred and accessible

gaining and sharing knowledge

on how teams across government are working in a user-centred way with data, and creating successful working relationships with data colleagues

influencing design systems

to include ways of working with and patterns for communicating data
The community is for anyone working on services that collect, analyse, visualise and publish data and applying a user-centred lens to them. Some existing examples of this across the community are: working to publish data on COVID-19, working to help policy-makers at a local level understand data, and helping to publish data about climate change that enables local authorities to tackle the challenges arising from it.
We're now planning sessions for November and January, with meetups planned for every 2 months thereafter. Between meetups, we'll communicate via an email list and a Slack channel, encouraging people to share their work and organise design crits with people working on similar challenges.
So far we have people participating from a wide range of professions, including interaction and service design, content design, user research, performance analysis, data science, and statistics.
You can read the value proposition to find out more about what we are aiming to do for our community members to help us meet the focus areas highlighted above. In addition we have also created a code of conduct, which outlines the types of behaviours that we want to see within the community.
If you'd like to get involved, you can do so by emailing us at ucd-and-data-admin@digital.cabinet-office.gov.uk.