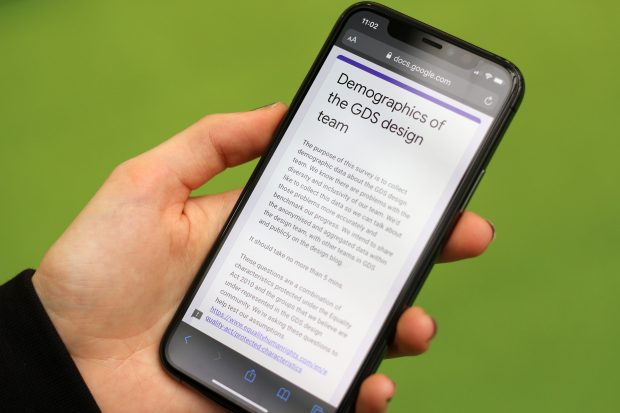 The GDS design team has paid close attention to diversity issues for many years. Like the wider Civil Service, we want to reflect the society we serve. Based in London, with its many diverse ethnic groups, we strive to reflect the city's people. For example, people who are White British represent less than 50% of the London population and 37% of the population were born abroad.
From experience, we know that diverse teams are better teams and deliver better outputs. There is significant scientific evidence to show that multi-cultural teams have fewer blind spots, that diverse groups can outperform high-ability groups and that they are more innovative.
To progress and increase our design team's equity, we first needed to understand where we are. At the end of 2019, we sent a demographics survey to everyone in the design team and asked them to share their data anonymously with us.
The data
With a bit of nudging, we had 29 responses from the 29 people in the design team (at the time the survey was sent).
Here is how the design team responded:
I am under 45 - 79.31%

I am over 25 - 93.10%

I am non-disabled - 96.55%

I am not married or in a civil partnership - 65.52%

I have never been pregnant or on maternity leave - 82.76%

I am not a parent - 75.86%

I am not a carer and I do not have caring responsibilities - 82.76%

My ethnic group is not Black, African, Black British or Caribbean - 96.55%

My ethnic group is not Asian or Asian British - 96.55%

My ethnic group is not mixed or multiple ethnic groups - 93.10%

I am white - 86.21%

I do not hold religious or other spiritual beliefs that impact the way I live and / or my life choices - 93.10%

I am a man - 55.17%

I am cis-gender (my gender identity matches the sex that I was assigned at birth). I am not non-binary, fluid and I do not prefer to be identified in another way - 86.21%

I am straight (not lesbian, gay, bisexual, or queer +)  - 86.21%

I have a tertiary education (university or college degree or diploma) - 96.55%

I am not from a working class background - 62.07%
We didn't provide any definitions of these terms, the results show how people in our team self identified at the point of completing the survey. 
Why we ran the survey
Our aims were: 
to do no further harm to marginalised groups

to start being more open about the diversity of our team

to help the GDS design team do better with regards to equity

to gather data about the current demographics of our team
One of the unintended effects, as reported in the survey comments and anecdotally, was that it encouraged many of us to think more critically about our own characteristics and privileges. 
We chose to frame the questions as we did so that the burden was on the (usually) more privileged groups to tick a box and name their privilege. We know that this way of collecting the data was not perfect. Accuracy of the data collected was not the only goal of the survey and minimising the time it took to complete the survey was not one of our aims. 
The mandate for this work comes from the civil service values and the Civil Service diversity and inclusion strategy, which has 2 aims:
to continue to increase the representation of currently under-represented groups at all levels across the Civil Service

to focus on inclusion to build our culture and reputation as a place that attracts, develops, retains and fully engages all the diverse talent across our organisation
Reactions to the survey
There were some responses in the comments section of the survey:
4 people gave extra information about why they felt a specific category did not fit their characteristics 

2 people were unsure what was meant by 'working class'

2 responded positively to the survey in general

1 questioned why the survey was mandatory

1 said it made them feel guilty about their privilege
A few designers mentioned that they found the format of the questions confusing or that it took them longer to understand the question. All of the people who mentioned this had multiple characteristics which meant they belonged to dominant groups (which are over-represented in design).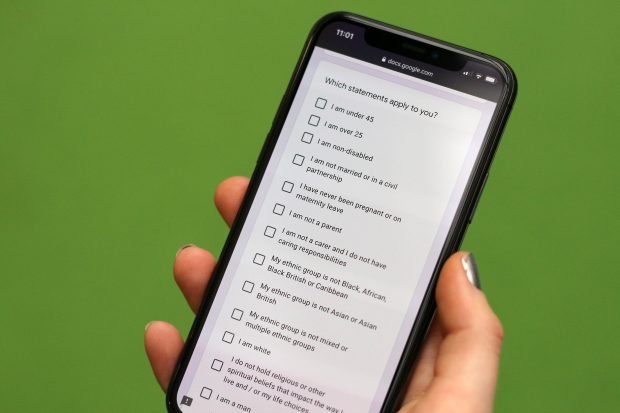 Current position vs targets
As mentioned before, our aim is to reflect the diversity of the city we work in.
These are the approximate London population proportions of each of these marginalised groups. 
As we can't make a direct numeric translation between the way we framed our questions, and the demographics discussed, we can only approximate the corresponding numbers on our team. 
We have used these demographics for London, and our team size of 29 people, to calculate which characteristics are most underrepresented in the design team. If the team reflected London's population we would have:
4 Black people

(we have 0)

4 people who have a disability

(we have approximately 1)

8 people who are Asian or belong to a minority ethnic group (we have approximately 3)

6 people aged 45–65 (we have approximately 3)

15 women (we have approximately 13)
We found that some marginalised characteristics are currently adequately represented in our team. To reflect London, we should have:
3 people who identify as lesbian, gay, bisexual, transgender or queer + (we have approximately 4)

1 person whose gender identity is trans-gender, non-binary, fluid or who prefer to be identified in another way (we have approximately 4)

2 people aged 21–25 (we have approximately 2)
What we are going to do
In the coming months, we want to make measurable improvements to the equity of the GDS design team by:
We are planning to blog again soon on the topic of equity in the design team at GDS, starting with more information about the things we have done so far and the things we are planning to do in the future. 
If you'd like to comment, ask a question or make a suggestion you can reach Clara on Twitter at @claragt or Stephen at @loft27design, or you can add a comment below.