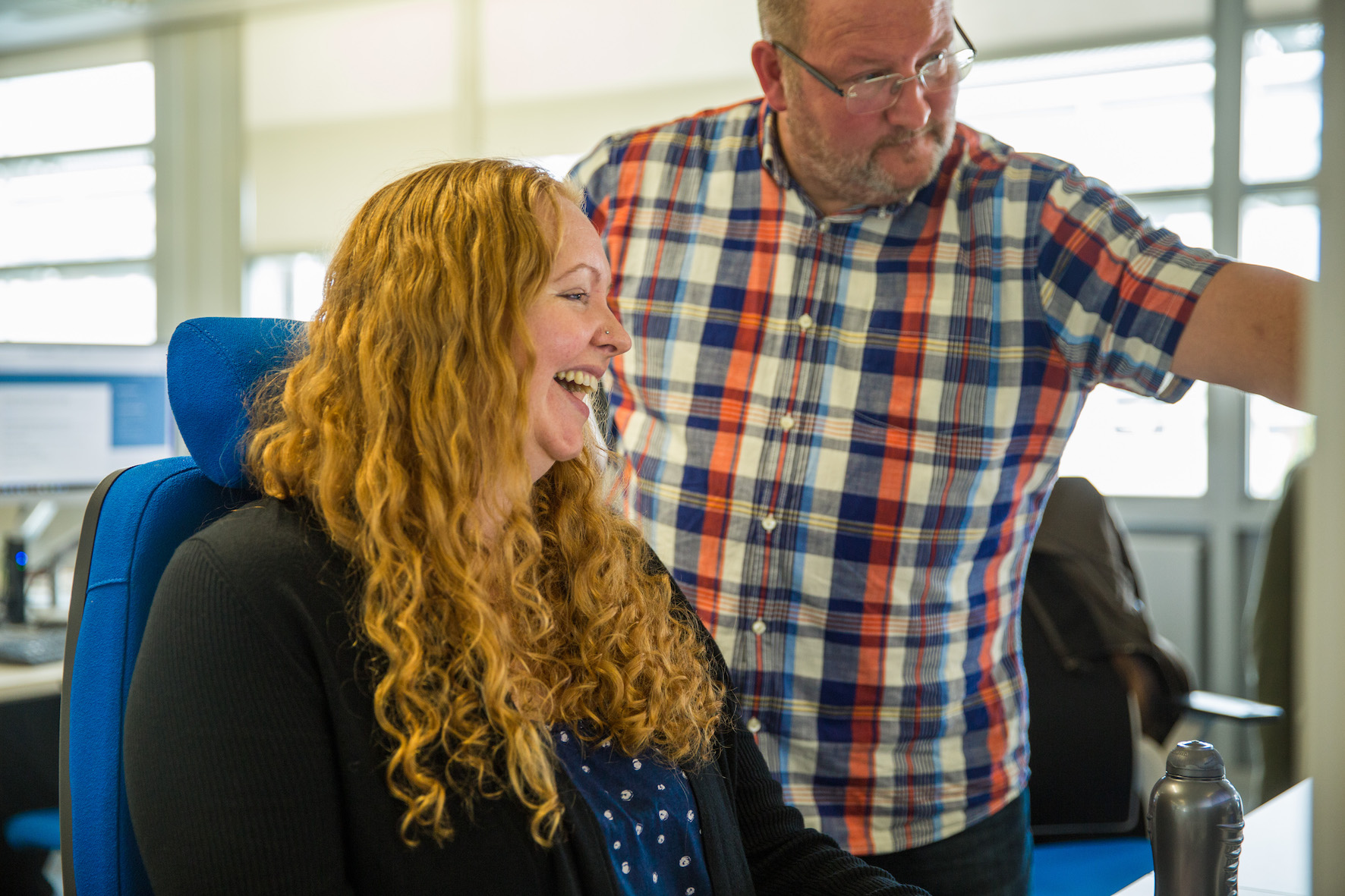 There are currently more than 600 designers across different organisations helping government work better for users.
Our Design in Government series profiles the design teams in different organisations, looking at how they are structured, how they work and what it means to be a designer in the public sector today. 
Her Majesty's Revenue and Customs (HMRC) is the government department responsible for collecting taxes, as well as paying a number of benefits, such as Child Benefit, and enforcing regulations like the National Minimum Wage.
The HMRC Digital design team is based in offices around the country and works on digital services, online content for GOV.UK and forms and letters, including paper communications.
We spoke to 3 designers at HMRC to find out about how design works in the department, what brought them to government and the rewards of designing for user needs.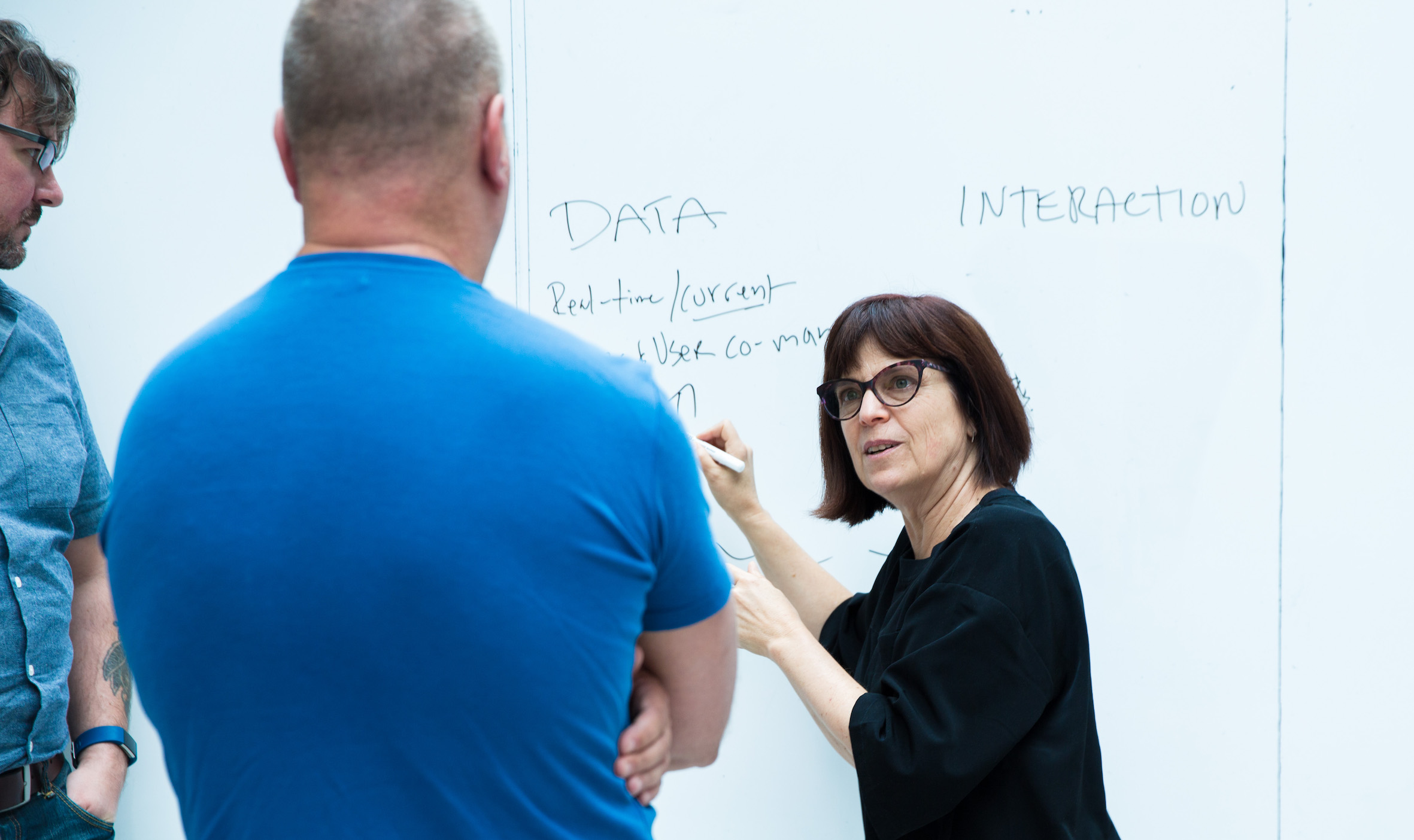 Tory Dunn, Head of Design
I've been with HMRC for just over a year now but I'd wanted to work with HMRC on their services for years. Like many designers who have been contractors, I've experienced what it's like to be a taxpayer dealing with different tax regimes - Self Assessment, VAT, PAYE, Corporation Tax - and saw working with HMRC as a great opportunity to use design to make things better.
I've been a designer since the late 1980s - my first Mac was an SE. I originally started in print design and then I studied product design. I began my career when digital was becoming a thing and became interested in how people thought about the products and services they were using - even when the products themselves were 'invisible'. That got me interested in service design. Before I joined HMRC I had worked with digital agencies, and organisations like Vodafone and the Design Council.
Over the years, I've worked to move design further upstream, so that it's seen not just as a method for delivering (beautifully) realised products, but also as a strategic tool that results in excellent integrated services. I'm very pleased to have joined government at a time when there is a wave of people saying: 'Great, we've moved many services to digital, but we need to think about how to create end-to-end services and bring design thinking into an earlier point in the process.'
We have a large design team at HMRC Digital. It broadly breaks down into 3 areas: the GOV.UK team designs specialist content for HMRC users; we have a team that designs letters and print-and-post forms; and we have interaction and content designers who design digital services as part of agile delivery teams. In addition to that we have service designers who work across a range of services or a programme, aiming to create integrated end-to-end journeys across channels.
Our team is based around the country - in our Digital Delivery Centres in Newcastle, Manchester, London, Worthing, Telford and Shipley. Depending on the needs of projects, team members do some travel between centres, for example to meet with stakeholders or to help with research. We use online chat and have design community meetups in each office. Once a month we have a meeting for designers across all of our centres using Google Hangouts.
When we recruit designers, we look for people who absolutely believe in starting with user needs and who are able to balance that with the context we are working in, understanding factors like policy intent and organisational strategy. Our teams work collaboratively and our designers are able to state the case for design thinking and design proposals.
Why should designers come work in government? And at HMRC? Because you'll get to work on important things: HMRC brings in the funding that allows public services to exist. Our job is to ensure that this is done fairly and without stress. To me that feels like a important thing to be doing.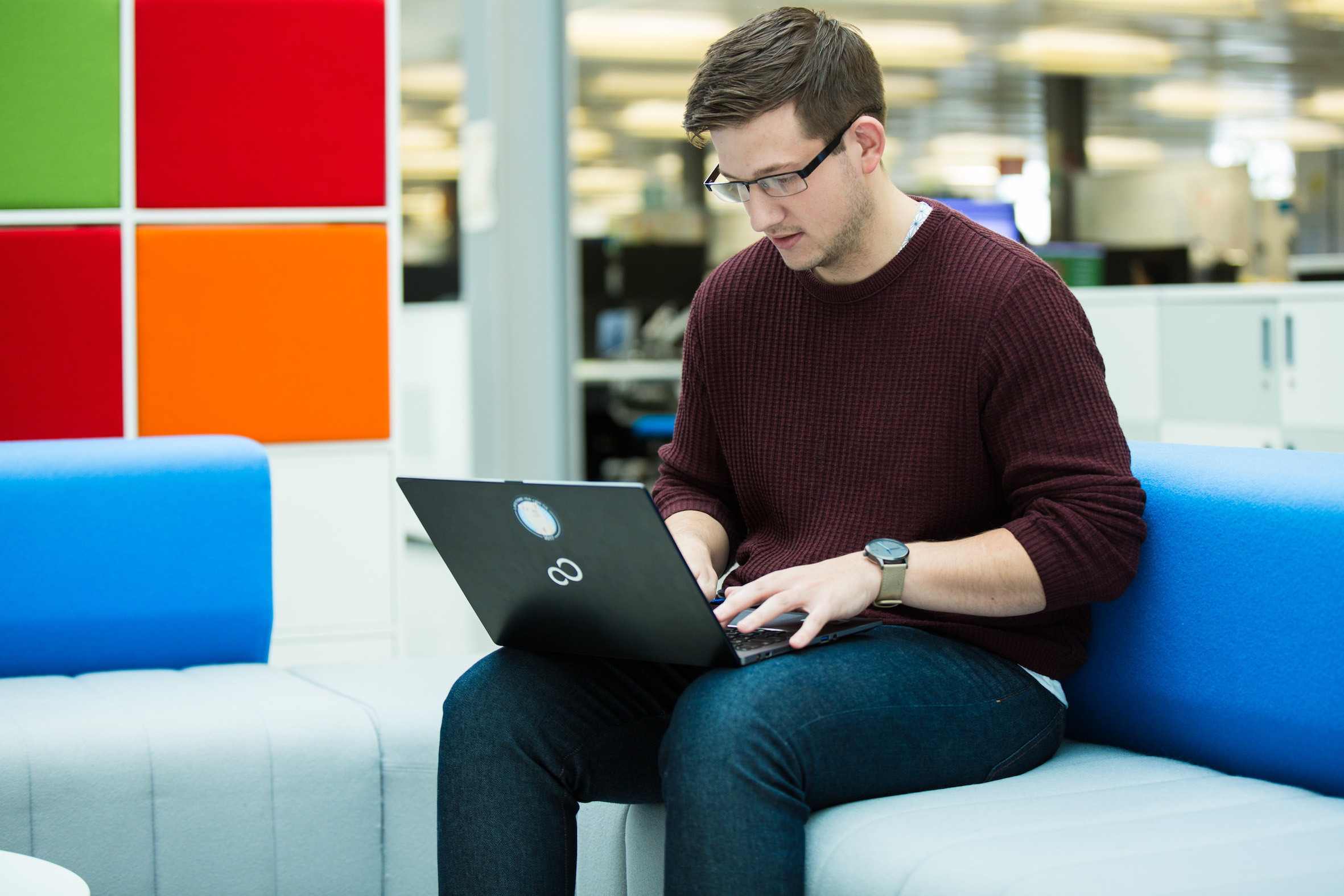 Ben Raine, interaction designer
I'm an interaction designer working on the Lifetime ISA and Tax Relief at Source services. I've been with HMRC for 3 years and I was recently promoted from junior to interaction designer.
I started here as an apprentice software developer. I did my apprenticeship for 2 years and during that time I said I was interested in interaction design, so I was given a mentor and began working in that area. When I applied for my apprenticeship, I had no background in software development or interaction design, so I've learned all of those skills here.
Looking back to where I started is a bit crazy - I've gone from having no technical background to being an interaction designer in one of the biggest design communities in government.
In the 3 years I've been here I've never considered working anywhere else. That's largely because of the knowledge I'm surrounded by, both here at HMRC and more widely in government.
Our collaboration tools and design mailing lists are great resources for learning things. Because a lot of them are cross-government you can be talking to designers at the NHS or Department for Education and you can learn from their experiences. There's always someone who's been in a similar situation to you. I think that's one of the biggest reasons I've been able to progress - it's being surrounded by this knowledge base.
I enjoy working across 2 service teams because it keeps me on my toes. I've been able to take things I've learned in one service and implement them on another - after testing with users first of course.
Working at HMRC is all about delivering something for the user - their needs come first. You know that the service you're working on is making people's lives better and easier. When we do usability sessions, we do them in users' homes - seeing people do things easily because of work you've done is really rewarding.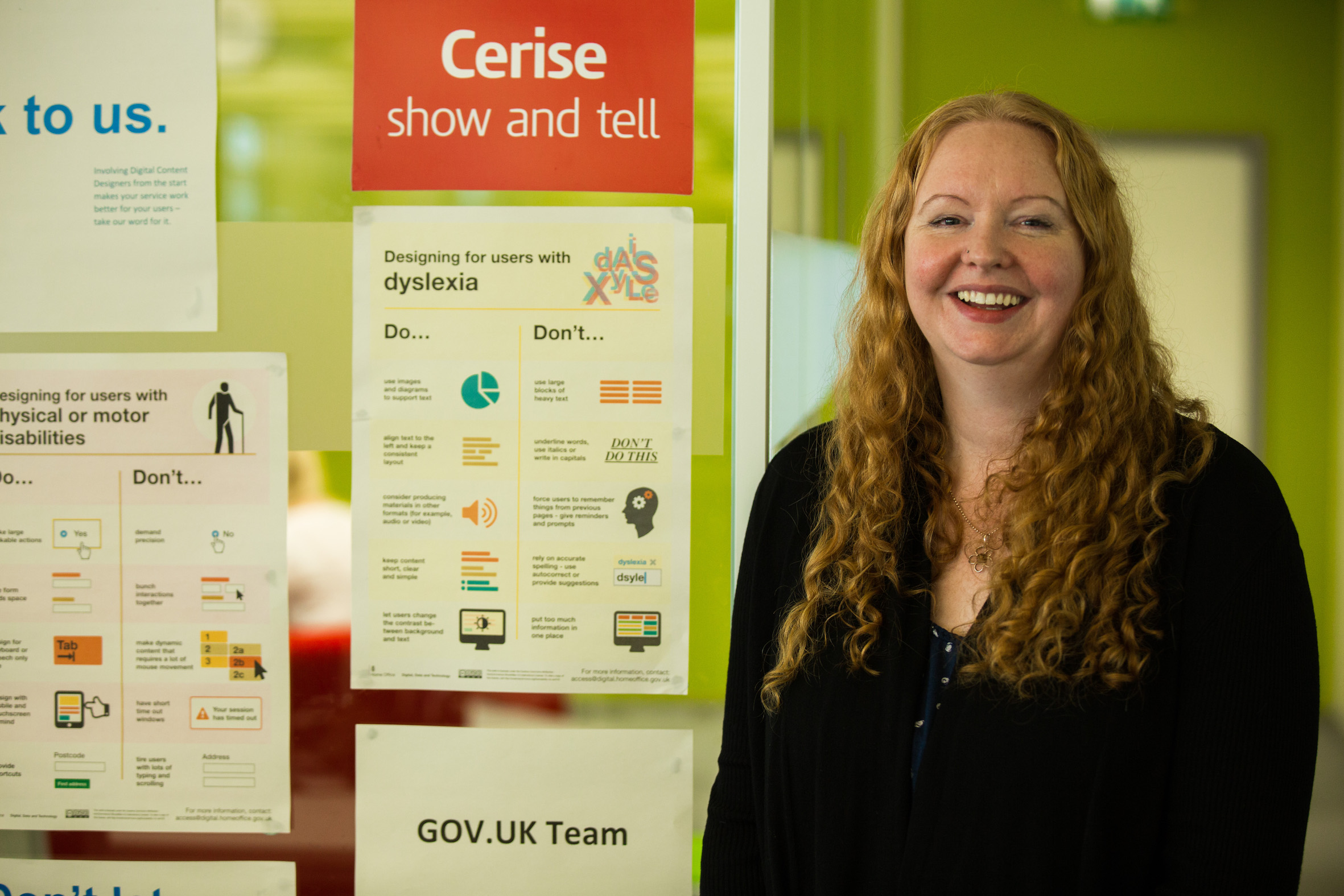 Jane Wilkinson, GOV.UK Content Designer
I started working in digital in 2004. I went on secondment to build an intranet from scratch for the Inland Revenue. It was a very good introduction to digital, I really was thrown in at the deep end. From that moment I knew that digital was where I wanted to be.
Before that I'd done communications work and I'd worked directly with taxpayers. A big part of my job was explaining to people exactly what they needed to do to use a service and I saw how badly we communicated back then. That's why I was so pleased when GOV.UK came along - user-centred design was exactly what we needed. I've been working as a GOV.UK content designer since we transitioned across in 2014 - I've got my transition sticker to prove it!
As a content designer, I work closely with subject matter experts and service team members across government. A big part of my job is explaining user-centred design to people who are unfamiliar with that approach.
Writing is obviously a big part of being a content designer, but there's a lot more to it than that. Content design is about looking at the best way to get information across to users. Part of it involves looking at whether or not something is appropriate to GOV.UK at all. It's about being objective and being the voice of the user.
It's really important to respect the knowledge that policy and subject matter experts have. Working together as one team gives everyone same understanding of what we should be doing for users.
The thing I enjoy most about working here is meeting user needs and knowing that I'm helping to prevent the confusing situations I saw all those years ago. There's nothing more rewarding that simplifying something complicated for users.
Government is hiring. If you're interested in joining a community of more than 600 designers working across departments, you can see our current vacancies at www.civilservicejobs.service.gov.uk.
You can find out more about design roles in government in our career framework and you can follow @DigiCareersGov to find out about our latest opportunities.
Follow HMRC Digital on Twitter and don't forget to sign up for email alerts.