There are currently more than 600 designers across different organisations helping government work better for users.
Our new Design in Government series profiles the design teams in different departments, looking at how they are structured, how they work and what it means to be a designer in government today. 
The Environment Agency is an organisation within the Department for Environment, Food and Rural Affairs (Defra). Defra's role is to make Britain a nice place to live by safeguarding the natural environment, working with the food, agriculture, fisheries, water and waste industries.
The Environment Agency runs services in areas including flood information, fishing licences and waste transportation.
The 11-strong design team at the Environment Agency is based in the organisation's Bristol and Warrington offices and works on services and projects across the country. We spoke to 3 of the team about their experiences in government, their growing focus on service design and their proudest moments.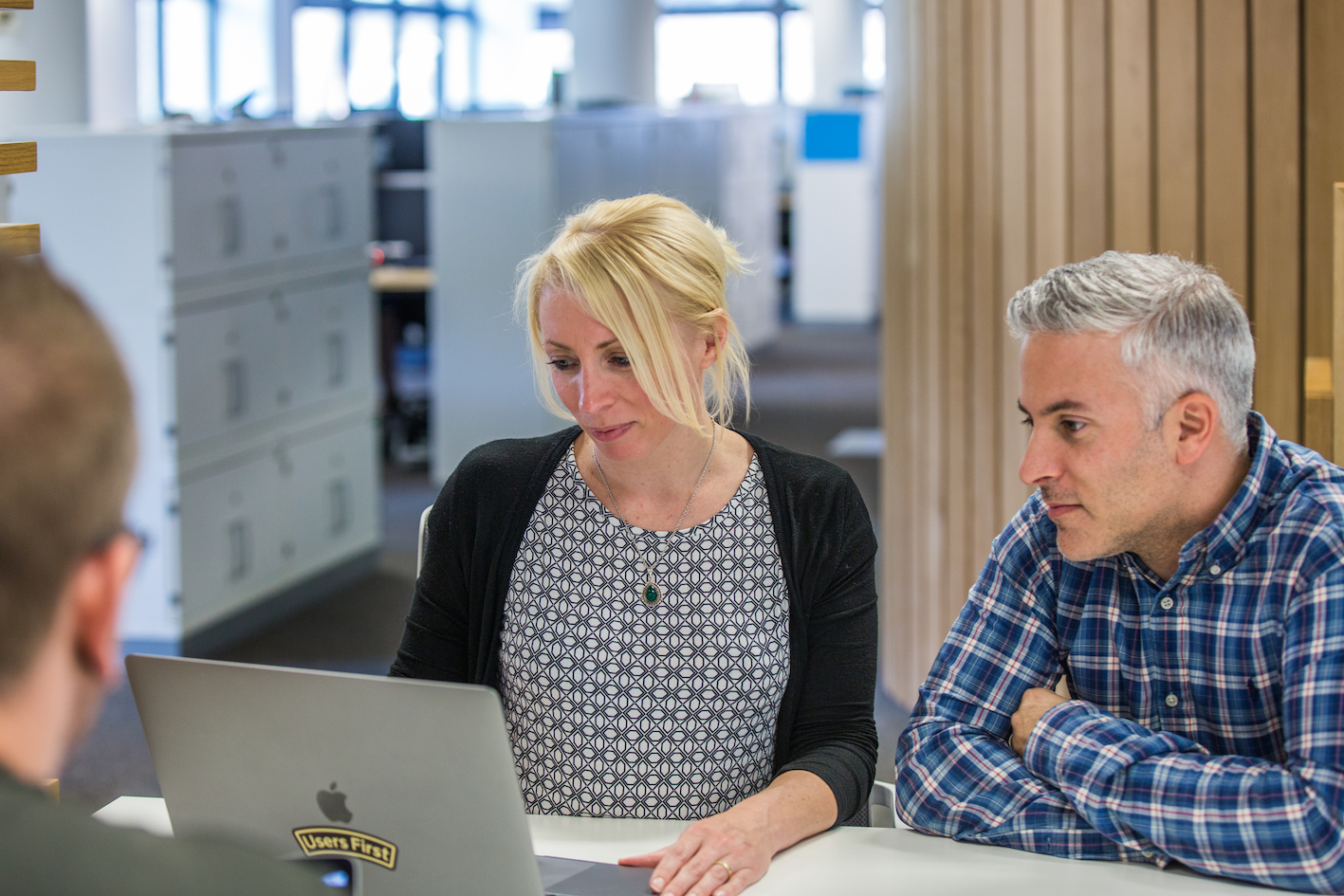 Polly Jones, service designer
I've been working for the Environment Agency for around 7 years, but I've not always been a designer.
My previous role was to manage the workload for the head of solutions delivery. This gave me a good understanding of the organisation, while sitting in meetings taking notes gave me a really good view of big IT in government at that time. I was struck by the slowness and expense and the fact that users were often an afterthought.
While I was in this job I decided to teach myself coding to get into design. I was lucky that my manager gave me the opportunity to work one day a week on the front-end of a service we were developing. Then the Transformation Programme came along and I was asked to work on an exemplar project for 2 days a week. Now, 3-and-a-half years later, I've transitioned from being an interaction designer to being a service designer.
One of the main things I've learned, and one of the main messages I'm trying to get across, is that we shouldn't be delivering transactions, we should be delivering services. You need to look at everything from end-to-end. The most powerful thing about that is collaboration - everyone designs services. The role of the designer is to facilitate and bring people together.
At the Environment Agency we have a community of designers, who work across different agile delivery teams in our Bristol and Warrington offices. We have 6 interaction designers, 2 content designers and 3 user researchers.
We don't really have a hierarchy and we don't have a head of design role at the moment. Having this would help us raise the profile of design and it would mean teams would be less stretched.
We use Slack as our communication tool and we use Google Docs with a community folder. We also have our own community design meetups where we do mini-design crits. Going to the regular cross-government design meetings is a great opportunity for us all to get together, these meetings really help to motivate the team and to let us see what's going on across government.
When we're bringing designers into the Environment Agency the main things we look for is how they can communicate and empathise. We want to make sure that they can 100% be the voice of the user and think about everything from the user perspective.
Designers in government are helping to improve public services. They're helping to build a better future for themselves, their family, for everyone. I work for a regulatory body, but when I'm in the countryside or when I'm on a plane looking down I look at how beautiful the countryside is, and it it makes me proud to work for an organisation that is helping to preserve this.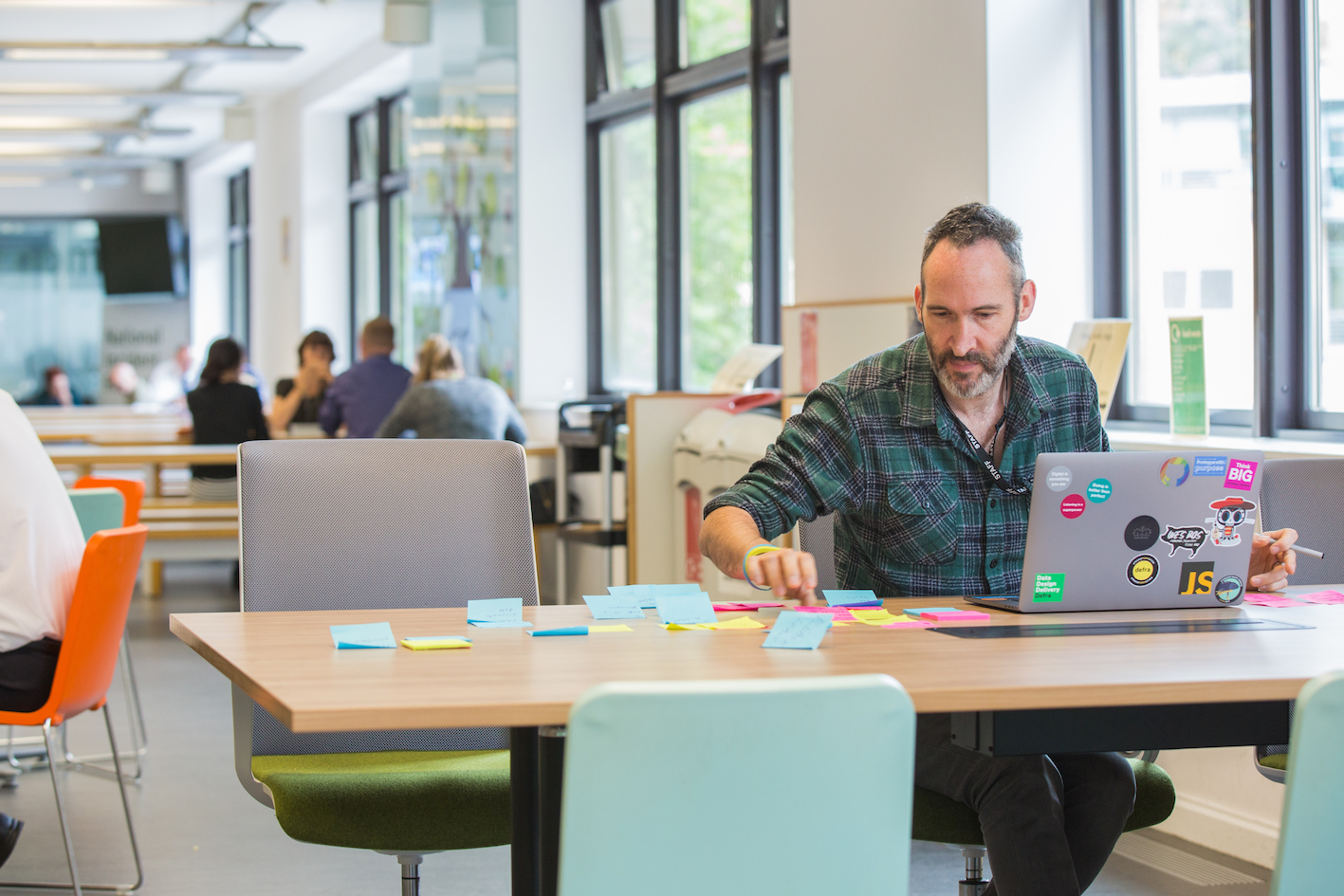 Liam McMurray, interaction designer
There isn't really a typical day being a designer at the Environment Agency. Basically you come in and have a stand-up with the team and then deal with whatever comes out of the stand-up. It's the most agile I've ever been.
I'm here as an interaction designer, but what I'm currently working on is really service design. We're quite a small team so we tend to muck in and and do what needs to be done - we're very keen to get things delivered.
My background is that I studied illustration and did a masters in interactive multimedia. Then I worked at at a commercial design agency and was freelance for a bit.
Before I joined the Environment Agency I worked at the University of Bath, where I learned a lot about accessibility and web design. Our head of digital left and Ross Ferguson joined from GDS [Ross is now back at GDS as head of product and service management]. Ross transformed everything and I learned a huge amount in that time.
I've been at the Environment Agency for around 10 months. When you come to government as a designer you get a lot of support. You get GDS and everything it brings: the Design Principles, the Service Standard, the Service Manual. These are things that we've tried to put in place in other organisations but not succeeded. In government these things give you the air cover to do things in the right way.
What I try to do most is to create an environment where design can happen. This means trying to have the conversations and meetings of most value and being there for the other designers, to make sure they are happy in their day-to-day working on the service.
We have our Slack channel and we have monthly meetups but often it's just about casually having a coffee and a chat and being able to talk about stuff.
The building we're in in the Bristol office makes it easy to have this open environment. There are no doors and the work is all on the walls and open. This makes it OK to find out more and get involved.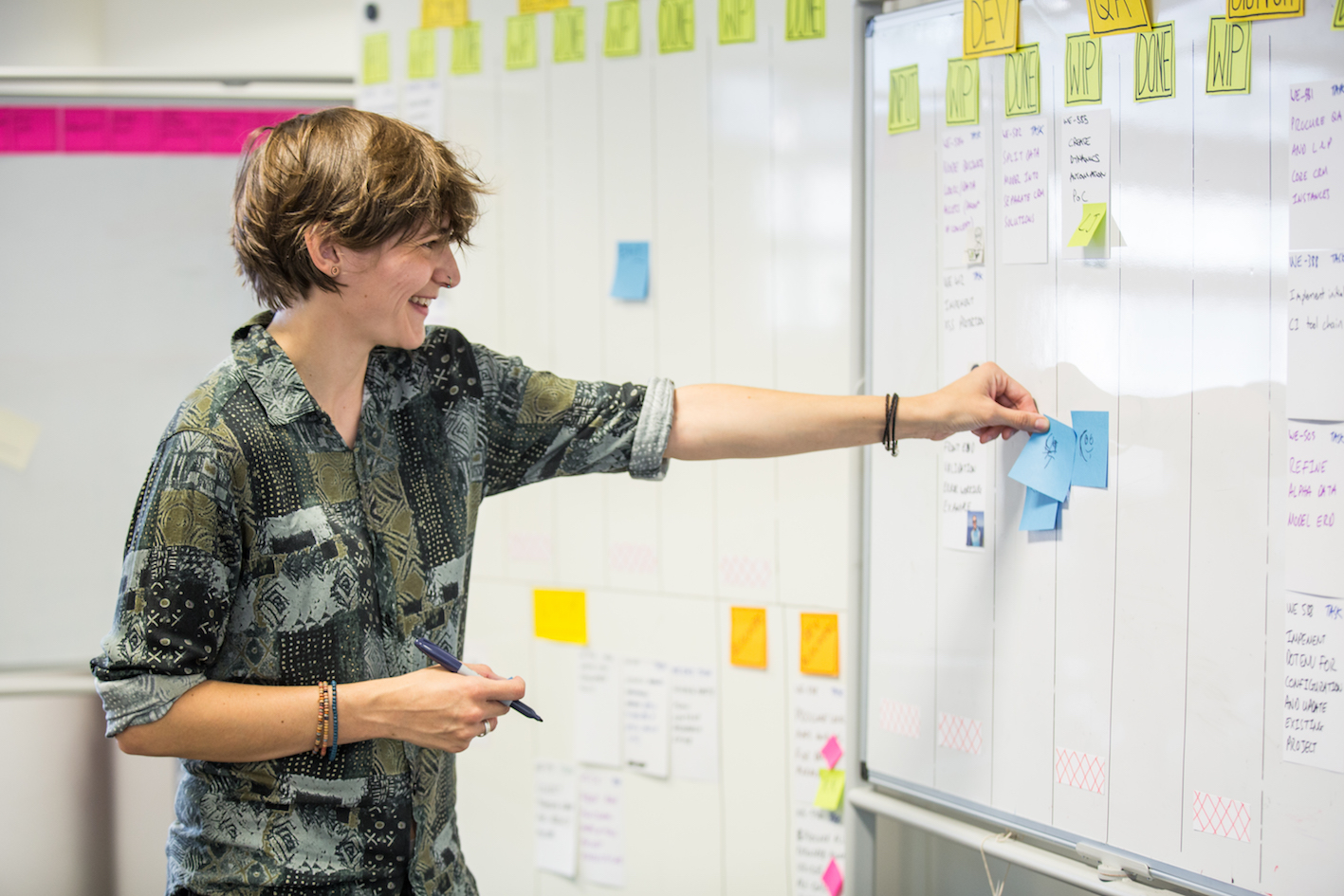 Cathy Dutton, interaction designer
I work in the Environment Agency's Warrington office, on the I Want to Fish service team. I'm an interaction designer but I'm trying to branch into service design. I want to show everything that's going on around the rod licence. All the stuff that affects it and is affected by it.
There isn't really a typical day working here. The only constant is our stand-up at 10am. Depending on what part of project we're on I mostly work with the user researcher, the content designer and the developer. In terms of user research we've had lab sessions where we've watched people using the service. We also went on a team session where we all went fishing together.
My degree is in product design and after I graduated I worked in various places as an interaction designer and a developer. I joined government because I was getting frustrated in the private sector - I found it very business-focused rather than user-focused.
Being a designer in government is about making things usable. It's about thinking about things like the transaction, flow and sequencing.
What I love about working here is that it's different every day and you can kind of make it what you want. So for example I wanted to look at service design and I'm able to do that. Or if I want to work with analytics I'll get the opportunity to do that.
The thing I'm most proud of is being part of the team that launched the I Want to Fish service - it went into public beta in February. So I'm very proud of that and all the positive user feedback we've had for it.
Government is hiring. If you're interested in joining a community of more than 600 designers working across departments, you can see our current vacancies at www.civilservicejobs.service.gov.uk.
You can find out more about design roles in government in our career framework and you can follow @DigiCareersGov to find out about our latest opportunities. 
Follow the Defra Digital on Twitter and don't forget to sign up for email alerts.