We are starting to look at the design of emails that the government sends to users and what should be standardised in the service manual. It would be good to get feedback from service managers and designers about what would be appropriate for their services.
Many services use email as a way of providing confirmation of actions, account management, notification of changes and reminders. There are also email conversations between users and civil servants for support and casework.
Users need to be able to:
tell the email is from the government
tell if it's real
know why the government is contacting them
make it easy to know what to do next
Currently there are no standards for emails across government. Each email looks and sounds different, even within each department or service. Few look official.
We are looking at what elements of emails should be standardised across services. These will form part of the service manual. It would be good to get feedback from service managers and designers about what would be appropriate for their services. We've set up a page on our hackpad to show different examples.
HTML vs plain text
Most government emails are currently in plaintext (or HTML designed to look like plaintext), and this would have been the recommendation until recently. However it's now very rare for a commercial organisation to send plaintext emails and most email clients handle HTML emails well. We think HTML emails feel more 'real' to users and it's easier to look official. So we would recommend sending HTML emails containing a plaintext fallback. Images should be loaded from the web to stop the email containing attachments. Email clients do not currently handle webfonts well, so we would recommend using system standard sans-serif font stacks (Helvetica/Arial/sans-serif).
Headers and footers
HTML email allows more styling and a consistent look across emails. We have standardised headers and footers on service web pages and we're investigating doing the same for services.
Alex Torrance has been working on the HMRC Self Assessment service and has been testing emails that look like this: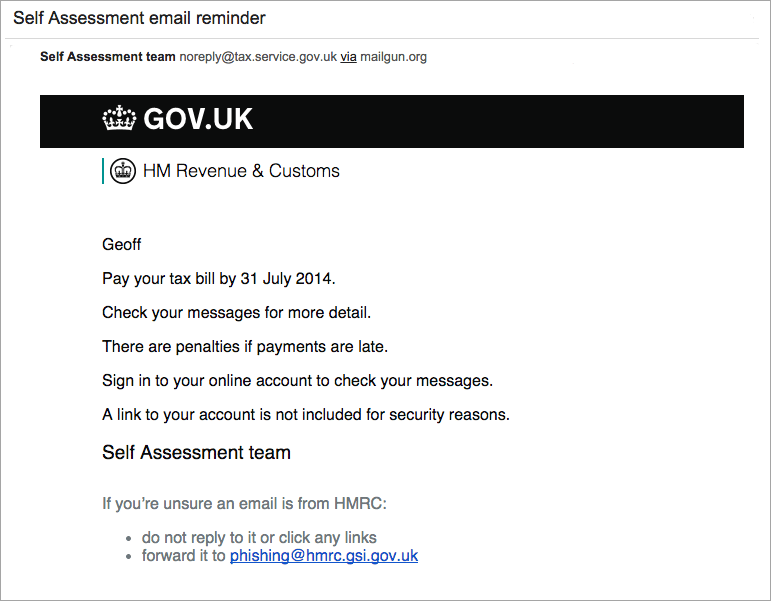 We are thinking of standardising the GOV.UK header in emails to show some continuity across web and email. The department logo would be optional, depending on its use in the service.
Every email should have a footer indicating what to do if the user thinks the email is not real. We may add in a section about how to check if links are correct. The idea is to get emails from across government feeling the same, so fake emails are more obvious.
Links in emails
There are many security risks with getting users used to clicking links in emails, especially HTML emails. However, in user research, we've found telling people to go to GOV.UK by typing it into the browser bar, search for the service they are trying to use, and then log in is too confusing.
We're looking at allowing two links in emails from services; one to the service start page on GOV.UK, and when neccessary, one directly to the service to perform email address verification. In all cases, the link URLs would be written out in full.
Other links and text
No other links would be allowed. The text should be written to make it clear why they are being contacted and what they can do. There should be no extra text for marketing or social media.
Addressing the user
It is good to mention the user by name in emails - it provides extra reassurance that it is a real email. However, every service has different ways of storing user's names, so we wouldn't say it had to be by first name or last name only. Getting the tone of addressing users correct is hard.