Guy and I have been working with the carer's allowance team to test the start page as part of a guide to improve the user journey and try to encourage more users to apply online.
In a lot of cases transactions don't require users to have to have a great level of understanding before they start - a name like 'renew a tax disc' explains clearly what the service is for. Other transactions are more nuanced. Services like 'carer's allowance' or 'lasting power of attorney' require more information so users fully understand what they are for.
This problem becomes more significant when you look at the data. Lots of users navigate to start pages for services through content on GOV.UK, which means a start page repeats information they may already have read.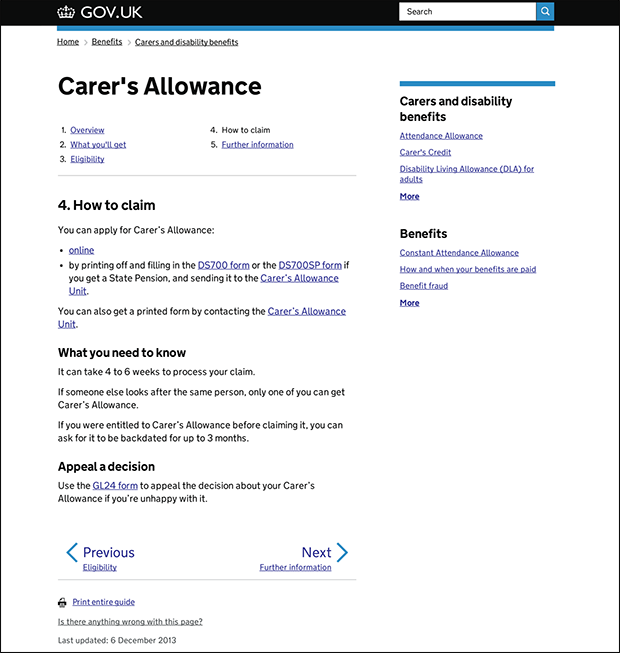 How we addressed the problems
We explored several ways of improving the first page of the carer's allowance service. The most successful included;
creating a section within a guide that acted as a start page - reducing the amount of steps a user needs to complete to start a transaction

changing 'how to claim' to 'make a claim' to make starting clearer
Ben Holliday, the researcher on the transaction, tested our prototype with 5 people who wanted to apply for carer's allowance at Preston library. His research showed that users were able to navigate clearly to the online transaction from the guide, reducing the amount of steps the user needed to take.
It seems like a small change, but it's really significant. It means people can use services much quicker, and they have detailed information in the place they most need it.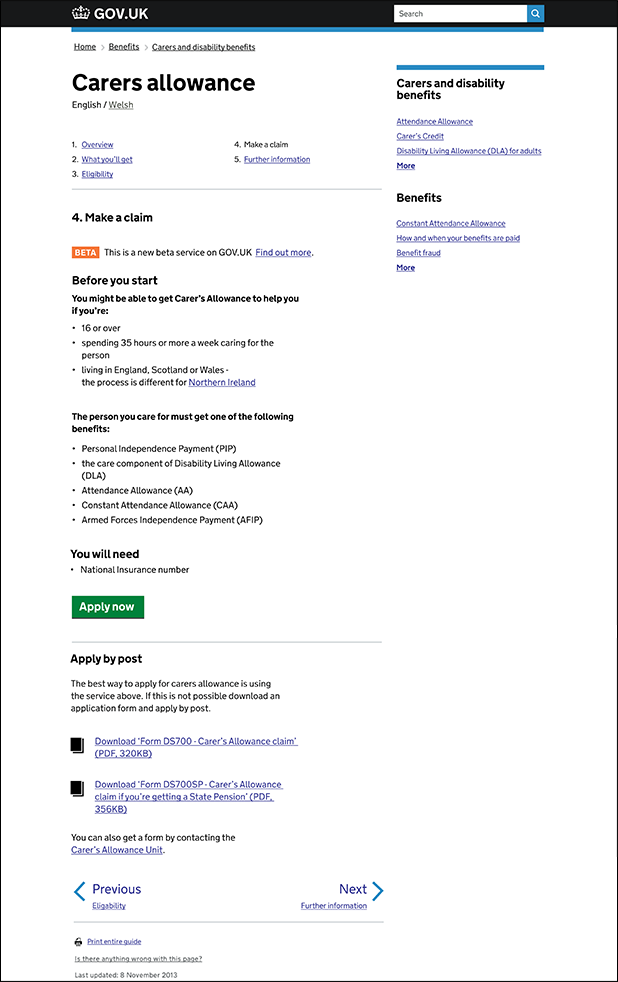 Next steps
Before we implement any changes to the carer's allowance guide we need to investigate how much eligibility detail needs to be given on the new 'how to claim' section. We need to look at this alongside the existing 'eligibility' part and decide whether that should exist in its current state.
On the back of our start page work we have also been testing beta labelling. There will be a post coming soon. If you are working on a transaction and have done any research in to beta labelling, we would love to hear from you.