We recently launched 'register to vote' on GOV.UK. It's a service that will be used by a broad range of people, so we really tried to make it as simple and straightforward as possible. Here are a few things we learnt along the way.
1. Designing for mobile can make it better for everyone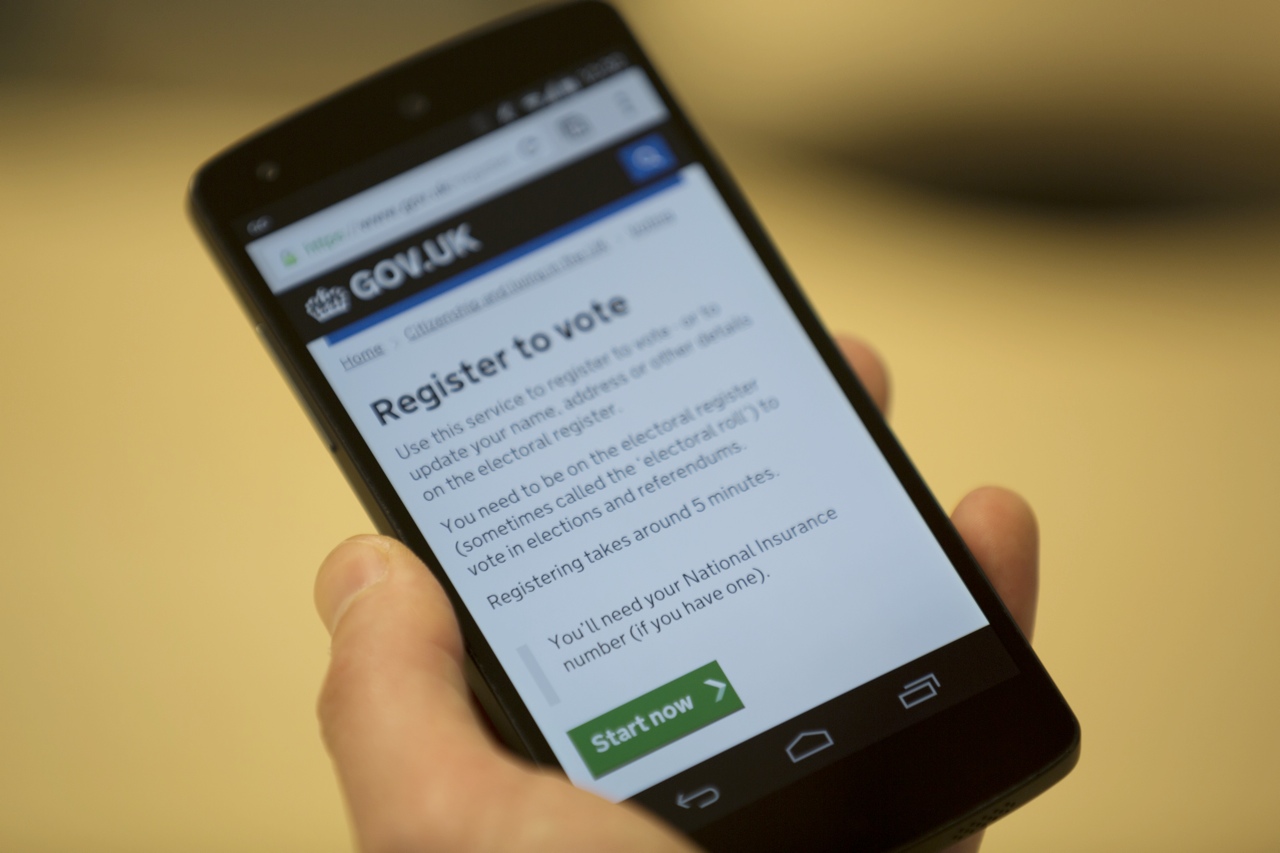 We began by designing 'Register to vote' for mobile phones. There were two main reasons for this:
The number of people using mobiles to access GOV.UK is rising rapidly: 24% for January to June 2014, compared to 16% for the same period last year. We expect this trend to continue, our statistics are public and you can keep an eye on how people access GOV.UK.
Designing for the constraints of mobile is useful - if we get the fundamentals of the service working on small screens and slow network speeds, it can work on more capable devices.
This meant that we started with asking just one or two questions per screen, making it very manageable on mobiles. When we sent this early design around internally for comments, a common response was that it felt odd on large screens. And so we planned to have the process adapt so you could see more questions at a time on larger screens.
However when we started user research with the general public, we saw a very positive response to the simple step by step approach, even on large screens. Though it added more clicks, people said it made the process feel simple and easy - there wasn't too much to take in and process at any one time. So we stuck with the simpler screens for everyone.
The approach gave us other advantages. For example, say someone makes a mistake answering a question: entering an email address with no '@'. The mistake and how to correct it is a lot clearer if the question is on the screen. With longer pages, it's common for the question to be off the top or bottom of the screen, making it harder to find.
2. It's easier to discover what to add than what to remove
When we began the design process, there were various pieces of help text and interface elements that we felt people might need. For example, we had text on the screen to help people with their National Insurance number - what it was and where to find it. But before we went into user research, we removed a lot of this help. By doing this we could find out if people really did have the difficulties we predicted. We could see what proportion of people had problems, and what specifically the problems were.
This was a powerful technique - we found that very few people had problems with National Insurance numbers. In fact we saw many people who would say "Oh, I'm strange - I know it off by heart" - they were not as uncommon as they thought.
Seeing that very few people had a problem on this step enabled us to hide the help text behind a link - making the screen simpler for the majority.
3. The right words can make a big difference
When people have problems with an interface, it can be a temptation to add more text. In our experience this is rarely helpful - the more information on the screen, the harder it is to take in and understand.
Instead, it was much more effective to try different words and phrases, and try other approaches to questions and answers.
For example, we began with a question that referred to 'voting by post'. This is where you can send your voting choice by post, instead of going to a voting station. In user research some people seemed to struggle with this concept - thinking that perhaps it referred to the polling card being sent to them through the post.
We did two things that made this clearer and simpler for everyone - we referred to 'postal vote' and set up the question with two answers that helped explain the situation: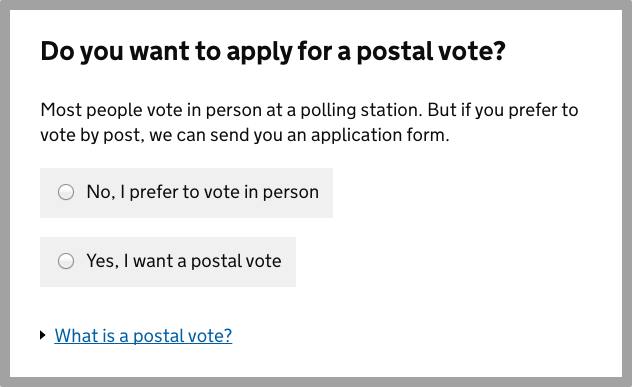 Experimenting to find the right words helped solve similar problems throughout the process.
At the time of writing, 'register to vote' has a satisfaction rating of 95%, and we continue to look at feedback and try to improve things. If you're interested in reading more about the project, here are some more posts: