Providing good services is difficult if we don't monitor how well we're doing. Fortunately, we're building an entire platform to show, compare and provide insight into how well each service is working for citizens.
Joining the Dots
On every service performance dashboard we now link to the service we're monitoring. So performance/tax-disc displays a clear link to 'renew a tax disc'.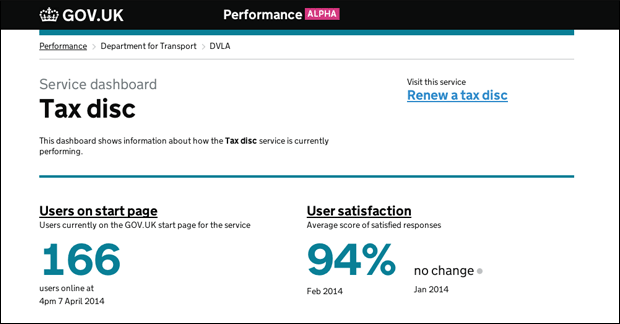 The performance platform may be linking to GOV.UK pages, but up until now it hasn't had much love from the main transactional pages of GOV.UK. The platform is still an alpha project, with many kinks to iron out. But we feel it's important to start sharing this information as clearly and openly as possible to help us get better feedback.
Research into the performance platform's use suggests that the current audience is locked down to the manager for the service we're monitoring. But we feel the performance of that service can only be enhanced by giving access to these statistics to as broad a range of users as possible. The visiting figures for each dashboard looked pretty slim. Our initial plan was to start linking to the performance of each service from the service start page to increase use both in volume and diversity.
Baby steps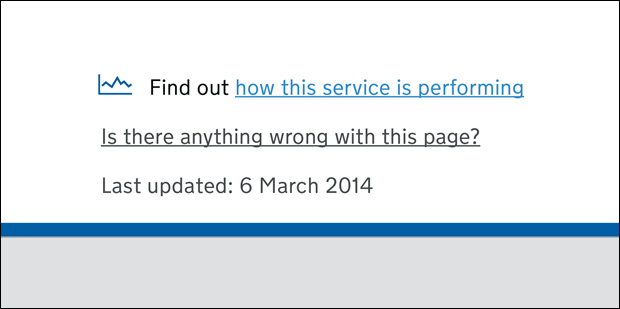 A couple of weeks ago, we added a link on the 'renew a tax disc' start page linking to the service page on the performance platform. Data shows that users don't spend much time on start pages, as they are there to complete the transaction as soon as possible. We needed to make sure it didn't get in the way for these users, but for the more inquisitive users it allowed them to see how the service was performing.
Measuring the performance of the performance link
In the last month:
0.05% of users landing on the start page went through to view the service performance
40%  of users viewing the service performance came from the GOV.UK start page
So adding one small link almost doubled the use of the tax-disc performance dashboard. This tallied quite well with our assumptions: no big impact for users who want to just get on with the transaction, but lots of fresh eyes on the performance of that service.
Bigger steps
We'll continue to measure how much use the 'Find out how this service is performing' link gets on the service start page. When we have more data we'll look at adding this kind of link on more start pages.
We're also looking into where users will see this link. Should it be at the beginning of a transaction, or once the transaction is finished? We already have a story to start looking at where to put the link.