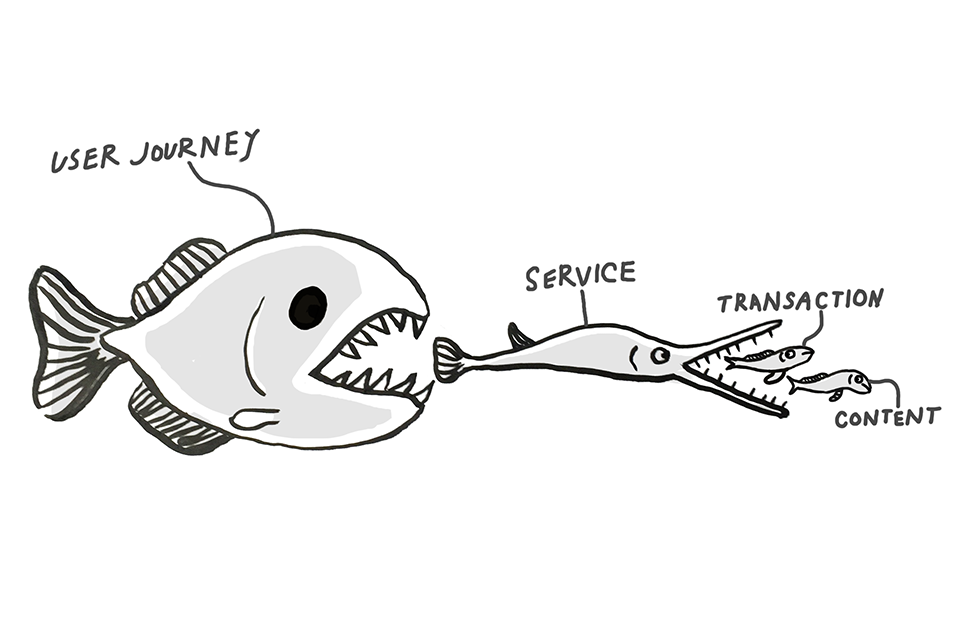 One of the things we use a lot on the Finding Things team are user journey maps.
A user journey map is a way of showing a user's journey through a service over time. It may include many transactions and different services. It starts where a user's need for that service arises, and ends at the point where they stop using the service.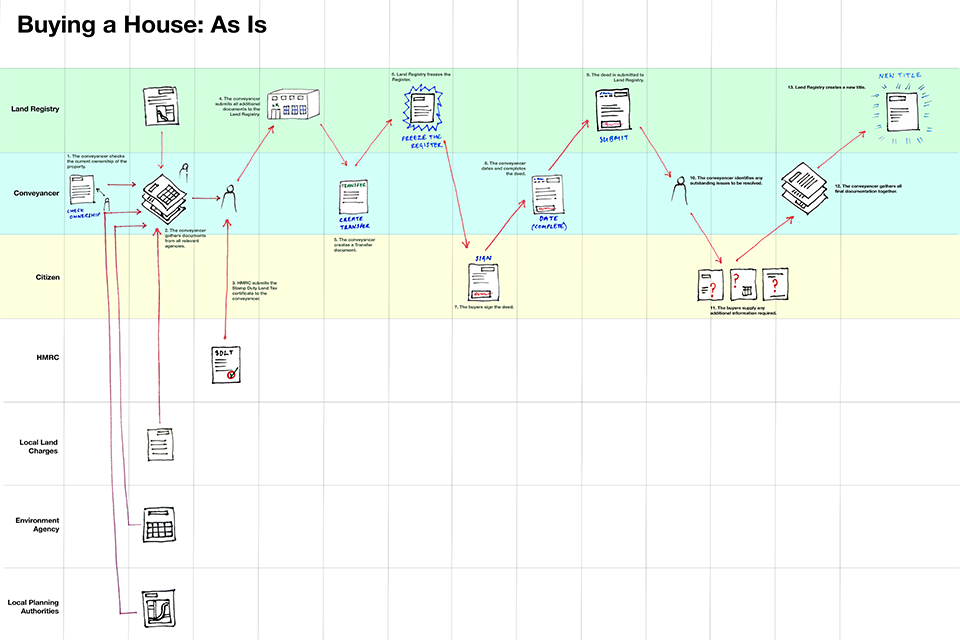 They show all the things that are happening, and how all the back end systems work together to create the user experience across the journey.
We find that mapping the user journey helps us contextualise what we're designing from the user's perspective, and keep that point of view as the focus of our design.
There's many ways of organising user journey maps, and you'll hear them called different things: service blueprints; use cases; storyboards; and many more.

Personally I've never found it that useful to stick to any fixed rules about what to include in a user journey map. It's a flexible format, and it's up to the project team to decide what's most useful to include.
Why are user journey maps useful to us in government?
The process of mapping user journeys is particularly useful because:
the things being built across government will usually be a component of bigger services, which are also a part of a user's broader journey

they show you how your service or transaction fits into this bigger service and highlight what other things might need to change, and who you need to be talking to in order to make those changes happen

they help you to have those conversations about what needs to change because you can print out massive user journey maps

and stick them on a wall
They can get complicated...
Sometimes it's hard to fit something into a straight-up linear journey. There may be offshoots, cyclical bits or too much variance in the steps and activities from one user to the next. Having said that, trying to make a clear user journey diagram out of it can be a useful way of understanding the problem, or how you should be approaching the problem.
This user journey captures all the government services that interact with your pension, from the day you get your national insurance number to the day you die.
As you can see, it get's a bit complicated.

From putting this together we learned that there are very few fixed points in this journey that all users will share - it spans too much time, and too many possibilities.
Through exposing this in the user journey it helped us to focus our work on tackling smaller, more specific user scenarios. The outcome will be a set of digital transactions and content that are grouped into services that serve broader, life phase based user needs such as "planning for retirement".
In the next post, we'll look at practical advice on how to create user journey maps.