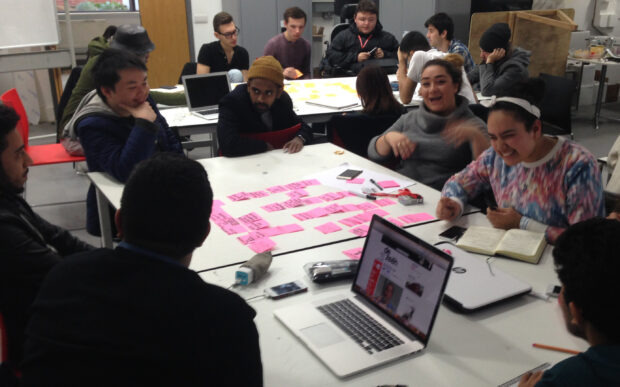 In November Stephen, Rebecca, Henry and I spent a day and a half with design students at Middlesex University.
Why we got involved
The Product Design course was having its '5 year revalidation'. This was a week-long discovery where the students and their tutors asked questions like: should the course stop, stay the same or change and what and how should the students be learning?
Course head Wyn Griffiths asked us to come in and we said 'Yes' without any hesitation.
We think there's a genuine need for design professionals to get more involved in education and we want to do our bit.
The design profession is changing. We used to mainly design things like products and buildings. Now we look at seemingly immaterial things like interactions, communications, and services. 

That means in sectors where, until recently, there were only a few designers working, there are now hundreds, in some cases even thousands; education, health, finance, government, charity, technology. The list is getting longer.
But at the moment, while the profession struggles to hire enough people, many graduates find it hard to get design jobs. Something isn't matching up.
Show and tell
Our role was to get the discovery started. We did this by giving a few show and tells. Stephen introduced GOV.UK and designing in government. Covering our design principles. He paid particular attention to start with needs and doing the hard work to make it simple.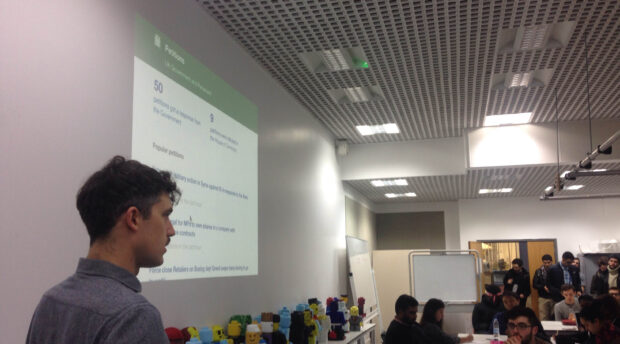 Then I talked about service design and told the story of how the Royal College of Art was originally called the Government School of Design. When the school was founded in 1837, there was an 'economic argument calling for better design.' There was a concern at the time that 'British-manufactured goods were lacking in quality'. At the same time there were new ideas about health, hygiene, utility and having less decoration in everyday things.The Government School of Design was for learning how to make stuff for people, by taking advantage of Industrial Revolution technologies.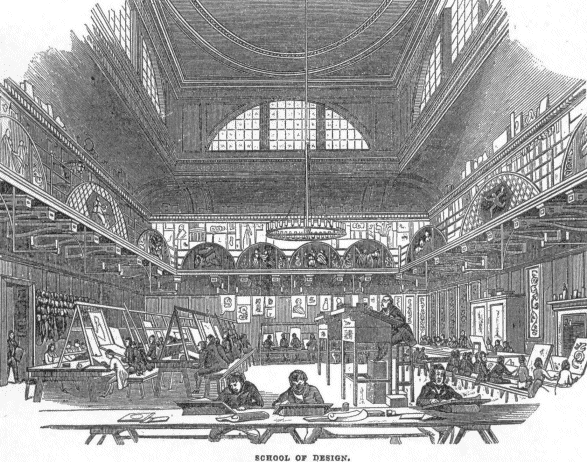 I asked students, what if the Government School of Design was founded today? Say if in that story, the Industrial Revolution was swapped for the internet? How do they think a modern, 21st century design school should work?
In the afternoon, the course divided into nine teams. Each decided their scope for the week. These topics included: learning through failure; sharing practical information; why are grades needed; and designing in teams.
On Tuesday morning, Henry did a great talk on designing and building petitions.parliament.uk. Finishing up, Henry and I gave feedback to each team that might test their ideas.  
What the students need
The rest of the week, the students did some great work: redesigning different parts of their course that they felt needed changing.  They designed, tested and visualised what how they wanted to learn. They also came up with a series of their own user needs. These are the main ones;
Permission to fail

Learn skills as you need them

Learn more about user research

More working in teams, despite it being "hard to mark"

Trust what you're learning is relevant to what you want to do afterwards

Be aware your options for when you finish
What the industry needs
Prior to making the visit to Middlesex, I conducted my own research into what people need from designers. I spoke to a lot people. Inside and outside government. These are the characteristics I heard mentioned most:
Thinking skills not just technical ones

...and technical skills not just thinking ones

The ability to work in an agile team

Be critical about your own work

Provide questions, not only answers

Be professional: don't be late, plan ahead etc
Next steps
Hopefully our input helped clarify the thoughts of both course leaders and students alike.
Taking all what was learnt that week, Wyn and his colleagues are redesigning the course. They'll be considering not only how it can better meet student needs, but also how it can be changed more easily as needs change.
Follow Harry on Twitter and don't forget to sign up for email alerts.