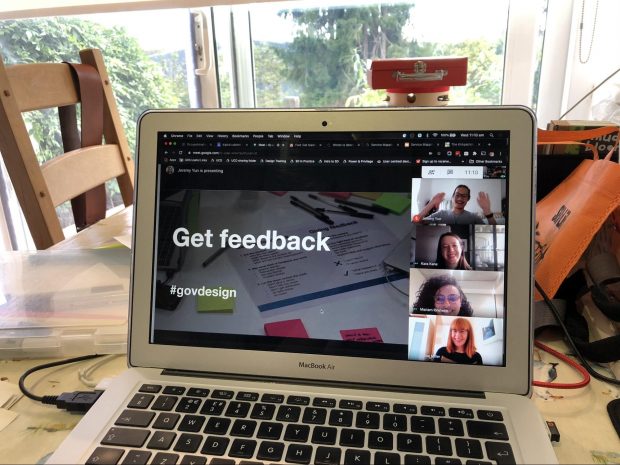 For the last few months we have been piloting a new remote format for design critiques called "Get Feedback". This is a continuation of work that we are doing to foster and improve the culture of design critiques for service teams across the public sector.  Part of this work includes improving cross-government and wider public sector collaboration.
In this blog post we are going to talk about what Get Feedback sessions are, why we are running them and what the remote format looks like.
What are Get Feedback sessions 
Get Feedback sessions are designed to help people who work on service design, interaction design, graphic design, content design and tech writing work to get feedback from colleagues across government and the wider public sector in a safe and inclusive way.
You do not have to be doing a user-centred design role to join these sessions. For example, they could be helpful for you if you're on a project team without design help.
Get Feedback sessions are an iteration of the past cross-government design crit day sessions that we used to run on a monthly basis. These sessions were run for a full day in a classroom environment and were designed to help teach participants how to run a design crit and get feedback on their work.
We changed the format of the design crit sessions to be shorter, work remotely and to be run weekly by anyone across government.
Sessions are done over a video call and last for 90 minutes. They are split into 3 parts. The first 30 minutes of the session consists of a collective agreement and a review of good practice when it comes to asking for, giving and receiving feedback. This is designed to help create a safe space for all participants and alleviate any anxieties.
The next hour is split up into 2 halves. The first half is all about context setting. We have created project summary cards to help presenters define their work and the type of feedback they want. This helps to provide context to the project. The next half is then devoted to giving feedback on the work.
Benefits of participating
Timely feedback
As the sessions run weekly, you can get feedback as and when you need it. The sessions are always the same date and time so you can factor participation easily into sprint planning. You can join to get feedback, give feedback or facilitate a session when you have time — the sessions are only 90 minutes, so it does not take up too much of the work day.
Fresh perspective
The sessions are open to anyone working in the public sector working on or interested in user-centred design work. There are more than 4,000 people in the user-centred design (UCD) community so there is a large, diverse group of people who can participate and give feedback. While it's beneficial to do design crits within your team, it's useful to get a fresh perspective to uncover new ideas and connections.
Learn about work in different areas
Get Feedback sessions are a great way to see what work is happening across the public sector. It's a chance to learn about different approaches, methods, and tools; to learn from how others have tackled challenges; and it's a great way to practice presenting your work and giving feedback on work.
Learn about user-centred design
If you're new to the user-centred design profession or interested in a career change then the sessions are an opportunity to learn about user-centred design work and approaches.
Meet people
Get Feedback sessions are an opportunity to meet people from the UCD community in a safe and inclusive environment. You can connect with people working in similar roles, service areas, or problem spaces.
It is likely that someone else from across government has experienced the same problems you're trying to solve and Get Feedback sessions are one of the ways where we are trying to create opportunities for people to collaborate across areas of government.
How to participate
Each session has at least 3 people participating and each person is assigned a role:
Facilitator:

the facilitator organises and leads the session, ensures it's a safe and inclusive space, and keeps the session to time

Presenter:

the presenter is the person presenting work to get feedback on
Feedback giver(s):

multiple people can sign up to give feedback; there is no pre-work required, just feedback on the day
You can also sign up to observe if you'd like to experience how the sessions run. 
You can request to join the Get Feedback Trello board if you want to sign up, as only public sector colleagues can join. The Trello board is shared each week on the cross-government Slack channels for #design, #servicedesign and #content. 
The Trello board has slots—which are separate cards for each week. You can identify what sessions are free, and what roles are available to sign up for. The board has information on how to sign up for each role and includes the code of conduct for participating.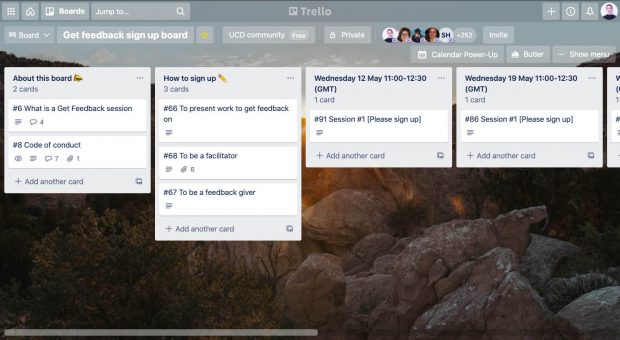 Similar cross-government formats
Earlier this year another cross-government format launched called cross-government design buddy groups. The groups are self-managed with the aim of connecting across the public sector, supporting each other and getting feedback on work. Design buddies are great for sharing advice on process, approaches, and tackling big challenges. Get Feedback is for specific feedback for a specific piece of work. 
Sign up to a session
Sign up to present, facilitate or give feedback at one of the weekly sessions by using the Get Feedback Trello board. Anyone in the public sector can take part—central and local government, Parliament and the NHS. See the weekly call outs on the digital cross-government Slack #design, #servicedesign and #content channels to get the link to the board. If you do not have access to Slack, email the Get Feedback facilitators and we'll add you to the Trello board. You can also email us if you cannot access Trello and we'll help you participate.